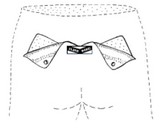 In re Slokevage (Fed. Cir. 2006, 05–1389).
Slokevage filed to register a trademark for "pants, overalls, shorts, culottes, dresses, skirts" configured with the label "FLASH DARE!" The TTAB refused to register the mark because it consisted of product design without any showing of secondary meaning.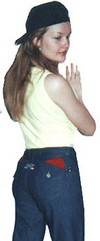 Slokevage appealed to the CAFC, arguing that the clothing trade dress was not product design, and thus could be inherently distinctive.
As an initial matter, the CAFC found that the determination of whether a trade dress is "product design" is a factual inquiry and deference is given to lower court determinations.
Here, Slokevage argued that the rear flaps were not "product design" because they did not alter the entire product, but were rather more like labels. The CAFC disagreed:
"The holes and flaps portion are part of the design of the clothing—the cut-out area is not merely a design placed on top of a garment, but is a design incorporated into the garment itself. Moreover, while Slokevage urges that product design trade dress must implicate the entire product, we do not find support for that proposition."
After finding that the design was product design, the court made quick-work of affirming the refusal to register under Wal-Mart v. Samara (product design cannot be inherently distinctive).
Links: