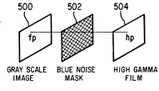 Research Corporation Technologies v. Microsoft (D. Az. 2006).
After a bench trial, Arizona District Court Judge Manual Real of found that RCT's patents were unenforceable based on inequitable conduct that occurred during prosecution of the patents in suit. And, because it was an "exceptional case," the judge granted Microsoft's request for $8 million in attorney fees.
Back in 2001, RCT sued Microsoft for its patents directed to a "blue noise mask" used in halftoning digital images. The new procedure was touted in the patent application as being "visually pleasing" and lacking "low frequency graininess at every level of gray." At the same time the inventors published a paper that reported resulted of "visually annoying clumps" with graininess. In the paper, the inventors reportedly rejected the claimed algorithm in favor of another technique that was inconsistent with the patent. That paper was never submitted to the PTO.
The court found this seemingly contradictory information material because a "reasonable Patent Examiner clearly would have considered [the contradictory information] important to at least the written description and enablement requirement for patentability." For intent, the judge found that:
It is not credible that they did not know that a reasonable Examiner would consider it important to know that patent applicants' reported efforts to practice the applications' disclosed No K technique had led to "visually annoying clumps," not the "visually pleasing" images promised by the patent applications and their patent claims."
In addition, the inventors were awful on the stand — one was "not credible" and the other "evasive." Thus, further supporting the finding of intent to mislead the PTO.

According to a release by Microsoft's attorney John Vandenberg*, the patents previously had been asserted against Hewlett-Packard Company, Seiko Epson Corporation, and Lexmark International, each of whom had settled out of court and taken a license. In awarding Microsoft attorney fees, the Court found it to be an "exceptional case" and that RCT knew or should have known of the inequitable conduct before the Patent Office.
< ?xml:namespace prefix ="" o />
A couple of readers wrote-in to identify Judge Manny Real as a legendary old-school federal judge, and former chief judge in the central district of California. It appears that Judge Real is sitting by designation for this patent case.