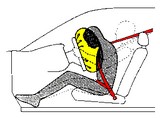 Venture Industries v. Autoliv (Fed. Cir. 2006).
At trial, damages experts relied on Venture's financial statements when calculating damages. It turns out, however, that those statements were at least inaccurate and perhaps fraudulent. Autoliv unsuccessfully moved for relief under FRCP 60(b), then appealed.
60(b)(2): Under Rule 60(b)(2), relief may be granted when new evidence is discovered that clearly would have produced a different result. This rule rightly presents a high hurdle — requiring prejudice — to reopening a closed case. After reviewing the potential new numbers, however, the CAFC agreed that despite the original inaccurate information, the final result was not necessarily mistaken.
60(b)(3): Rule 60(b)(3) relates to fraud, misrepresentation, or other misconduct.
Discovery Misconduct: "Failure to produce material in response to legitimate discovery requests can constitute misconduct under Rule 60(b)(3)." Even though Venture battled against every discovery request, there was no allegation that it disobeyed the Special Master or district court as would be required.
Reliance on Fraudulent Financial Statements: Unlike its counterpart 60(b)(2), Rule 6(b)(3) does not require prejudice in the result. Rather, when there is fraudulent testimony, relief is appropriate where "a jury might have reached a different conclusion" without the false testimony. (6th Circuit law). Because the lower court had assumed the prejudice standard, it did not address whether the expert testimony relying upon the incorrect financial statements was, in fact, fraudulent. Thus, the CAFC vacated and remanded for a more complete finding.
Notes:
Read the opinion here.
This case arose out of a 1995 settlement of a patent dispute that was, according to Autoliv, being breached by Venture.