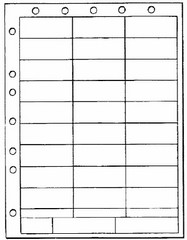 PHG Tech v. St. John (Fed. Cir. 2006).
PHG's design patents cover ornamental designs for medical label sheets. PHG sued St. John's for infringement and was awarded a preliminary injunction based on the court's belief that PHG had a reasonable likelihood of success on the merits.
St. John's appealed the preliminary injunction (PI) to the Court of Appeals for the Federal Circuit (CAFC).
The CAFC reviews a PI grant for abuse of discretion, and only vacates a PI when there is "clear error." In general, however, a PI should only issue after weighing "(1) the likelihood of the patentee's success on the merits; (2) irreparable harm if the injunction is not granted; (3) the balance of hardships between the parties; and (4) the public interest."
The first factor is a deal-breaker — if the plaintiff does not show a likelihood of eventually succeeding in the case then a PI should not be awarded. Here, St. John's argued only the first factor based on its argument that PHG's patents impermissibly cover designs that are primarily functional.
Functionality in design cases is a tricky beast. 35 USC 171 requires that a design be "ornamental," and this has been interpreted to exclude designs that are "primarily functional rather than ornamental." Of course, every design has some function . . . One way that the court gets at functionality is to see whether there are equally useful alternative designs. If an alternative design would reduce the utility, then it is "not truly an alternative."
In this case, the lower court found that there were "a multitude of alternative designs," but the lower court did not make specific findings as to whether or not those alternative designs altered the utility. St. John's did, however present expert testimony that the "alternative" designs were not as useful. On appeal, the CAFC was swayed by St. John's expert and found "clear error" because the lower court (1) did not make any "explicit findings" regarding utility of the alternatives and (2) failed to even mention St. John's expert report.
"The evidence presented by St. John, in our view, was sufficient to raise a substantial question of invalidity." Preliminary Injunction Vacated.