[UPDATE: Best presents for Christmas 2007]
No joke — A Christmas present that actually works. I visited my sister's house recently noticed that they are still regularly using the gift that I gave to them last Christmas! It is a simple device that receives a radio-signal from ACCUWeather and provides a 5–day forecast. A partner at MBHB initially recommended it to me.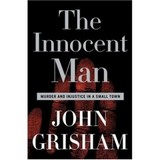 Those who know me will realize that I purchased the RadioShack version.
What to get for me? How about the newest Grisham? The Innocent Man: Murder and Injustice in a Small Town