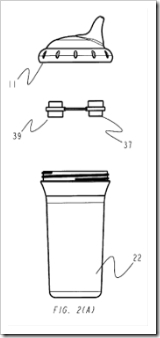 Hakin v. Canon-Avent (Fed. Cir. 2007).
Hakim sued Avent for infringing his leak-resistant drinking cup patent. After claim construction, the district court found no infringement.
The asserted patent was filed as a continuation. In the original application, Hakim argued over prior art by stating that the flexible-member opening was a "slit." When Hakim filed his continuation, he notified the examiner that the new claims were broader than those previously allowed. The Examiner then allowed the new claims without rejection.
Disclaimer in Parent: The usual rule is that "an applicant cannot recapture claim scope that was surrendered or disclaimed" even when a continuation is filed. However, "a disclaimer made during prosecution can be rescinded, permitting recapture of the disclaimed scope." In order to rescind a disclaimer, "the prosecution history must be sufficiently clear to inform the examiner that the previous disclaimer, and the prior art that it was made to avoid, may need to be re-visited."
Applying this rule to Hakin's prosecution history, the court found that simply informing the examiner of the new broader claims was insufficient to rescind the prior disclaimer of scope.
Notes: