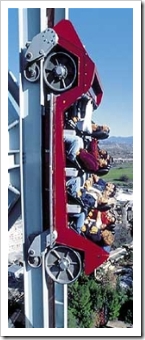 Intamin v. Magnetar Tech (Fed. Cir. 2007).
Intamin owns a patent on a magnetic braking system for a roller coaster and sued Magnetar for infringement.
The claim construction dispute involved an "intermediary" between two magnets. Relying on an ordinary meaning interpretation, the lower court had found that the intermediary could not itself be a magnet: "In short, ordinary meaning supports [a narrow construction], and neither the specification nor the prosecution history changes the ordinary meaning."
On appeal, the CAFC found an error in claim construction — holding that the claimed intermediary could itself be a magnet. The court based its result on an implication of claim differentiation.
[A dependent claim] discloses "[t]he braking device of claim 1 wherein said intermediary is non-magnetic." This dependent claim shows both that the claim drafter perceived a distinction between magnetic and non-magnetic intermediaries and that independent claim 1 impliedly embraced non-magnetic intermediaries.
Interestingly, the CAFC allowed the claim differentiation argument despite the fact that "Intamin did not raise this argument until reconsideration." As a backup, the court implicitly relied on the ordinary (broad) meaning of intermediary to further justify its holding.
At one point, the '350 patent describes an embodiment of the invention with a "non-magnetic" intermediary…. The single reference does not expressly limit the entire invention but only describes a single embodiment. Moreover, the term "intermediary," like the term "baffle" in Phillips, embraces more than the limited specification disclosure.
Vacated and Remanded.