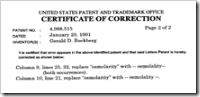 Central Admixture Pharmacy v. Advanced Cardiac Solutions (Fed. Cir 2007).
Central Admixture (CAPS) owns a patent covering a glucose-protein solution used to help overcome ischemia during heart surgery. During prosecution, CAPS made a Freshman-Chem error — claiming the fluid concentration range in units of osmolarity (solute per liter of total solution) instead of osmolality (solute per kilogram of solvent). In this case, for instance, the unit change moves the claimed range by only a few percent. However, the defendant's concentration was on the border-line — making the issue critical.
CAPS applied for and received a certificate of correction. The certificate, however, was not issued until after the litigation had already begun.
Certificate of Correction: A certificate of correction can be used to correct a minor mistake such as a "clerical or typographical" error or other minor error. In Superior Fireplace, the court held that a certificate of correction that broadens the claim is only permissible when it is clear from the specification and prosecution history how to correct the error.
Broadening: Here, the CAFC found that the correction broadened the claims because they now cover "less-concentrated solutions which would not be covered under the original claims." [DDC: Of course, a range should not be considered broadened if you are merely shifting the range].
Clear Error Correction: CAPS error is not plain to a reader since solutions have both an osmolality and and osmolarity. The error can be seen when examining the units used in the specification (mOsmol/L, rather than mOsmol/kg), but the CAFC saw the difference between these units as "very slight." (noting that the difference between miles and meters is much different).
Since the error corrected here was not clearly evident to one of skill in the art and the result of its correction was to broaden the claims, ACS should be granted summary judgment that the certificate of correction is not valid.
The relief for an improper certificate of correction is simply to cancel the certificate. Thus, in this case the patent "continues to read as it did prior to the issuance of the certificate."
Voidable Title: The research that led to the patent was funded by an NIH grant. The NIH indicated that it would waive its rights to obtain patent protection, but the inventor (Dr. Buckberg of UCLA) failed to properly perfect the waiver. In Campbell Plastics, the CAFC held that a similar error would allow the Government to obtain title to the patent. However, in this case, the inventor retains title until the day that the NIH goes after it.
Notes:
The certificate of correction was issued in 2001. The CAFC did not mention that a reexamination certificate was issued in 2005 that made no-change to the corrected patent.
Factually, is an osmolarity of 400-500 mOsmol broader than an osmolality of 400-500 mOsmol?
Footnote 5: 'The result might be different if the patentee's choice of unit resulted in a clearly incorrect claim—"fifty miles" instead of "fifty meters," for instance. Here, though, the difference between an osmolarity of 400 mOsmol/L and an osmolality of 400 mOsmol/kg is very slight.'