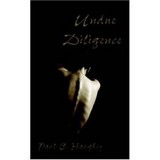 Book: Undue Diligence
by Paul Haughey (of Townsend Townsend & Crew)
$15.95 from Amazon
.
I had low expectations when I began to read my free copy of Undue Diligence. . . . A legal thriller about a patent attorney written by a patent attorney? — Give me a break!
As it turned out . . . I hardly put the book down until it was finished! It is a fun story, well written with plenty of action. The patent prosecutor (Joe Nile) is the hero; patent troll villains allow for a continuous stream of jabs at the patent system; and the office politics are real. If you like Grisham, you'll enjoy Undue Diligence as well.