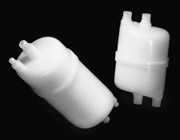 Entegris (Mykrolis) v. Pall Corporation (Fed. Cir. 2007).
Mykrolis sued Pall — accusing its competitor of infringing patents related to high-quality liquid filters used in the semiconductor industry. After claim construction, the district court issued a preliminary injunction, but Pall continued to sell a 'modified' design. During a contempt proceeding, the court held Pall in contempt for its continued sales, but also dissolved the preliminary injunction based on new evidence of invalidity. Both sides appealed.
Jurisdiction for appeal of contempt order: The CAFC has interlocutory jurisdiction over preliminary injunction issues such as the issuance, modification, or dissolution of a preliminary injunction. However, the CAFC here held that there is no interlocutory jurisdiction for an appeal of a contempt finding that does not itself modify the injunction. In addition, even though Pall must pay the contempt fine immediately, under Supreme Court precedent, a contempt decision is not considered an appealable final judgment. Finally, interlocutory appeals do not generally provide supplemental jurisdiction unless issues are inextricably intertwined. The contempt appeal was thus dismissed.
Preliminary Injunction: The burden of proving validity is shifted at the preliminary injunction stage where the patentee must show "a likelihood of success on the merits" with respect to both validity and infringement. A defendant who raises a "substantial question" of invalidity will defeat a preliminary injunction unless it "lacks substantial merit."
It is often difficult for a plaintiff to win an appeal after dissolution or denial of a preliminary injunction because the lower court's decision is based on a loose set of factors that are reviewed only for clear error. Here, Mykrolis failed to show clear error in the lower court's finding of a substantial question of invalidity.
Affirmed.
Notes:
Interlocutory jurisdiction: Power to hear an appeal before the lower court issues a final judgment. Interlocutory jurisdiction is generally quite limited and narrowly granted.
Hamilton Brooks cooperated with Ropes & Gray in representing the plaintiff Entegris.
Leydig Voit represented the defendant Pall Corp.