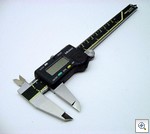 Mitutoyo Corp v. Central Purchasing (Fed. Cir. 2007)
Mitutoyo and Central have been wrangling for more than a decade over Mitutoyo's patent covering electronic calipers. The history includes Central's 1994 agreement to exit the market; a 1995 DJ finding that the patent is not invalid or unenforceable; and a 2006 summary judgment against Central.
Both parties appealed on damages issues:
Reasonable Royalty: On appeal the CAFC found the lower court's 29.2% reasonable royalty rate acceptable. Although a seemingly high number, Central's profit margin is around 70%. Most interestingly, the appellate panel held that the parties "contentious history" supports a high royalty rate. This serves as a reminder that a the reasonableness of the royalty still takes-into-account the positions of the parties.
Lost Profits: Although Mitutoyo also sells calipers, Central was able to avoid lost profit damages by showing that the products had little customer or price overlap. (Central's proof included economic evidence that the market for its $21 product was highly elastic – indicating few of its customers would have instead purchased Mitutoyo's $100 product.)
Willful Infringement: Mitutoyo's willful infringement claim was dismissed on the pleadings under FRCP 12(b)(6) for failure to state a claim and failure to prosecute. On appeal the CAFC reversed – finding that Mitutoyo's allegation of willful infringement coupled with Central's long history with the patent were "plainly more than sufficient to meet the requirement of Rule 8(a)(2) for pleading a willful infringement claim and avoid dismissal." Similarly, the appellate court held that failure to file a summary judgment motion on willfulness does not indicate "an intent to abandon [the] willfulness claim."
In its August 2007 Seagate en banc opinion, the CAFC raised the culpability standard for willful infringement. This case takes a step back to remind courts that the enhanced damages theory does not (yet) require a showing of fraud.
Standing of a licensee to sue: Mitutoyo's primary US licensee was also a party to the litigation. However, a licensee only has co-plaintiff standing if it holds "at least some of the proprietary rights" of the patent. Here, the licensee has no standing because Mitutoyo also allows one other company to import and distribute its products in the US.