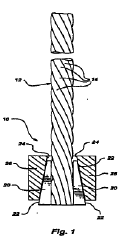 Gillespie v. DWIDAG Systems (Fed. Cir. 2007)
During prosecution, Gillespie argued around a cited prior art mine roof bolt reference — arguing that the collar of the bolt 'appears to be cylindrical on the outside, thus impractical…' Reviewing claim construction de novo, the appellate panel led by Judge Newman limited the claim scope to only cover non-cylindrical collars. (Following the maxim that a "patentee is held to what he declares during the prosecution of his patent.").
Gillespie argued that the claims should not be limited by his statements because the non-cylindrical collar shape did not turn out to be material to allowance. (The Examiner provided alternative reasons for allowance). The CAFC rejected that potential loophole – finding that Gillespie's argument was sufficient regardless of its importance in the prosecution process.
DWIDAG's bolts were thus found to not infringe this new construction.
Notes:
The court appears to have been careful not to use the term disclaimer.