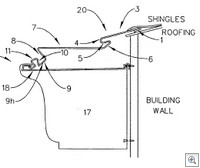 GP Industries v. Eran (Fed. Cir. 2007)
Eran makes "leakproof" rain gutter covers. Several Eran employees were fired during the summer of 2005. Those individuals reorganized as GPI — a potential competitor to Eran. As a preemptive strike, Eran mailed letters to its distributors and contractors noting that GPI's planned to sell a competitive product that infringed Eran's patent.
After GPI filed for declaratory judgment, the district court (Nebraska) granted GPI's motion for a preliminary injunction — stopping Eran from "(1) seeking to prevent GPI from making and selling its gutter products during the pendency of this litigation and (2) making vague and unspecified allegations of infringement against GPI in the marketplace."
On appeal, the CAFC reversed — finding that the preliminary injunction had been improperly granted.
The party seeking a preliminary injunction has the burden of showing: "(1) a reasonable likelihood of success on the merits; (2) irreparable harm; (3) a balance of hardships in its favor; and (4) public interest in favor of the injunction." Once granted, a preliminary injunction will only be vacated for clear error.
Injunction against Communications: Based on First Amendment rights and 35 U.S.C. § 287 (notice), injunctions relating to communications must pass a higher hurdle. In particular, "bad faith" is required in order to bar communications.
"One has a right to inform others of his or her patent rights. See 35 U.S.C. § 287. Thus, an injunction against communication is strong medicine that must be used with care and only in exceptional circumstances."
In Globetrotter Software, the CAFC held that "bad faith" communications require "objectively baseless claims." Notably, these determinations are based on federal law that preempt any state laws that may be less strict.
Here, the CAFC found that Eran's statements could not be "objectively baseless" since the lower court had noted the real potential that Eran would eventually succeed on the merits of the case.
Preliminary Injunction Reversed
Notes:
Hovey Williams of Kansas City, Missouri represented the patentee, Eran.
Kirton & McConkie of Salt Lake City, Utah represented the accused infringer.