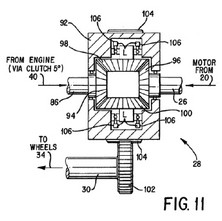 Paice v. Toyota (Fed. Cir. 2007)
A jury found that Toyota infringed Paice's hybrid engine patent only under the doctrine of equivalents. In a post-verdict decision, the Texas district court denied injunctive relief — finding that a $25 per engine compulsory license rate was sufficient. On appeal, the CAFC affirmed the infringement decision — holding that the jury had sufficient evidence to both (1) find infringement under the doctrine of equivalents and (2) deny literal infringement.
The major question at issue in this appeal, however, is the ongoing royalty. (The CAFC majority refused to call the ongoing royalty a compulsory license — Judge Rader, concurring, noted that the two are identical).
No Relief and No License: Denial of injunctive relief does not equate with issuance of a compulsory license. Here, the CAFC recognizes that after denying injunctive relief, a district court may choose simply to wait for the parties to either negotiate a license or stop infringing. In fact, the court noted that an ongoing royalty should not be determined simply as a matter of course. Rather, such an extreme form of relief should be used only as "necessary."
[A]warding an ongoing royalty where "necessary" to effectuate a remedy … does not justify the provision of such relief as a matter of course whenever a permanent injunction is not imposed. In most cases, where the district court determines that a permanent injunction is not warranted, the district court may wish to allow the parties to negotiate a license amongst themselves regarding future use of a patented invention before imposing an ongoing royalty. Should the parties fail to come to an agreement, the district court could step in to assess a reasonable royalty in light of the ongoing infringement.
Calculating the Reasonable Ongoing Royalty: In this case, the district court held that the ongoing royalty should be the same royalty rate as determined by the jury for past damages. On appeal, the CAFC found that much more should go into the determination of an ongoing royalty. And, of course, future royalties would likely be different than past royalties if only because of a shift in timing of the hypothetical negotiation.
Power to Order Compulsory License: Although settlement is preferred, the CAFC made clear that a district court judge has the power to declare an 'ongoing royalty' rate. Further, because ongoing royalties are a form of equitable relief, there is no Seventh Amendment right to a jury decision.
Remanded for a recalculation of the ongoing royalty.