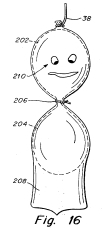 The head of a corporate IP department recently forwarded the following message to his troops:
To take advantage of the "one more continuation," we will be filing around XYZ applications between now and 1-Nov.

Some of you have experienced the USPTO electronic filing system locking up as its workload increases just before the cutoff at midnight Eastern time. It is fair to say that the witching hour this Halloween will be particularly intense.

Thus either file a day or so early, or switch to a paper filing. I'd rather pay the extra $75 in fees for a paper filing than miss that date.

If you decide to paper file between 2 and 4 PM on Halloween, then you have time to take the application to a normal post office before they close. If you are making late changes, you might want to simply plan on using the open-till-midnight post office at the airport. . . However at the witching hour, will its small parking lot fill up with patent practitioners spooked they cannot find a parking place?"
As we've always done in Chicago — file early and often.