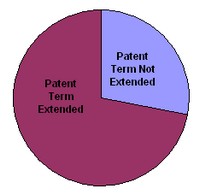 35 U.S.C. 154(b) provides for an adjustment of the standard patent term in cases where a patent's issuance is delayed because of delay at the U.S. patent and Trademark Office.
I looked at all 6155 original utility patents issued between March 1 and March 13, 2008 to see how often patent terms are adjusted. In this sample, the vast majority of issued patents have an extended patent term due to Patent Office delay. Specifically, 72% of the issued patents include at least some 154(b) extended patent term. Among those with an extended term, the average extension is 392 days. A few patents from the group have very long extensions that approach five years. These are generally explained by (1) secrecy orders and (2) BPAI reversals. (See Patent Nos. 7,342,534 and 7,339,604).
The first chart below is a histogram of the the patent extensions. As can be deduced from above, 28% of the issued patents have no extension. Slightly over 10% of the issued patents were granted an extension of three months (0.25 years) or less. A cumulative frequency chart of this same data would show that just over 50% of all the issued patents have a term extension lasting more than six months.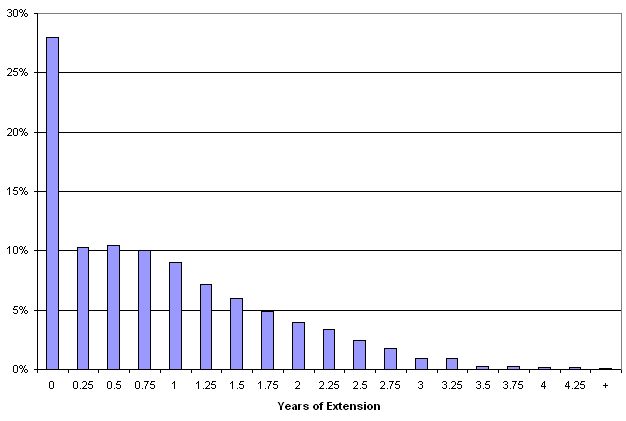 Of course, the extension term is correlated with the length of time in prosecution. The following scatter plot shows this relationship quite well. The demarcated boundary on the plot is an indication of the potential extension when the entire delay is attributable to the PTO.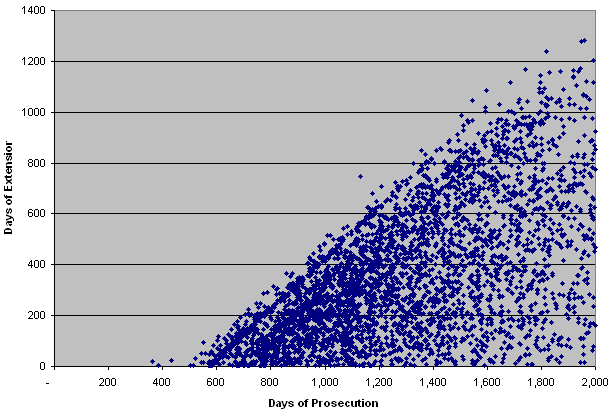 Other studies show that primary examiners are "quicker" — i.e., that patents examined by a primary examiner issue more quickly and with fewer amendments than those examined by assistant examiners. Here, I also found a difference between the type of examiner. As may be guessed, issued patents associated with an "assistant examiner" are much more likely to have an extension. (78% of patents with assistant examiner have extension compared with 69% of patents examined only by a primary examiner). It appears that at least some of the quickness is due to the examiner actually acting more quickly (rather than merely compromising more easily). Similarly, continuations are much less likely to receive extensions than patents without any ancestral history. (78% of patents with no ancestry have extension compared with only 61% of patents that reference one or more parent). That result is explained by the PTO's procedure of reviewing continuation applications on a priority basis. Combining these numbers, I find a recipe for delay: In this study a patent with no ancestry that is examined by an assistant examiner has an 83% chance of received extensions due to PTO delay.
As with every measure of patents, the results vary dramatically according to the area of technology. Here, we see that Computer & Communication related patents (according to classification) are much more likely to receive a term extension due to PTO delay and, when an extension is proper, those same patents have a much higher expected extension duration.
| | | | |
| --- | --- | --- | --- |
| Category | Percent Receiving Extension | Count of Patents | Average Extension (Days) |
| Chemical | 73% | 606 | 343 |
| Computers & Communications | 82% | 1690 | 544 |
| Drugs & Medical | 74% | 536 | 387 |
| Electrical & Electronic | 64% | 1369 | 270 |
| Mechanical | 67% | 900 | 268 |
| Others | 65% | 713 | 297 |
There are several potential practical implications of these findings: (1) a prosecuting attorney should be careful to avoid delay because applicant delay will naturally push-back the issue date and additionally reduce the eventual patent term; (2) In many cases, quicker issuance is preferable to an equivalent extension. However, it is important to consider whether delay is preferable for your case. (Of course taking affirmative steps to increase delay could be interpreted as a form of laches.