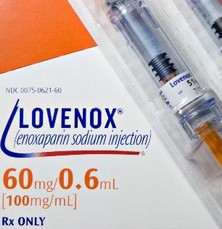 Aventis v. Amphastar Pharmaceuticals and Teva (Fed. Cir. 2008)
Summary: The CAFC affirmed a ruling that the Lovenox patents – owned by Aventis – are unenforceable due to a failure to submit important experimental information during prosecution. In dissent, Judge Rader could not find clear and convincing evidence of intent to deceive the PTO.
Inequitable Conduct: The Aventis patents are directed toward a heparin based drug used to help prevent blood clots. The specification includes a particular set of experimental examples that show an increased half-life of the claimed admixture. During prosecution, the applicant used those examples along with additional data to prove that its drug was inherently different from a prior art drug.
Aventis did not report to the PTO that its experiments showing an increased half-life of the claimed admixture used a different dosage than those testing the prior art drug. In a non-precedential 2006 opinion, the CAFC found the withheld information was material to prosecution — especially because Aventis argued that the benefit of the longer half-life was a potentially lower dosage. [non-prec decision].
By itself, a material omission does not render a patent unenforceable. Rather, a defendant must also show that the patentee acted with intent to deceive the patent office. The district court found intent through circumstantial evidence, and the CAFC affirmed after failing to find any clear error in the way that the district court interpreted the facts.
Dissent: In a strongly worded dissent, Judge Rader argued that inequitable conduct should only be found in "extreme cases of fraud and deception." In particular, Judge Rader has seen that the intent requirement has lost its import as the court increasingly allows intent to be inferred from loose circumstantial evidence.
"More recently, however, the judicial process has too often emphasized materiality almost to the exclusion of any analysis of the lofty intent requirement for inequitable conduct. Merging intent and materiality at levels far below the Kingsdown rule has revived the inequitable conduct tactic."
Here, Judge Rader argues that there is also compelling evidence that Aventis did not intend to deceive the patent examiner. For instance, Judge Rader noted that that Aventis actually "submitted all of the underlying data to the patent office with [its] second declaration on June 9, 1994." Furthermore, focusing on the Aventis scientist who submitted the half-life studies, Judge Rader noted that his stellar reputation should also sway the court:
"I find it difficult to fathom that a scientist of Dr. Uzan's caliber and reputation would engage in such deception. As the district court points out, Dr. Uzan has had a magnificent fifty year career with Aventis, has published over 350 scientific articles and has received numerous prestigious awards including the Galien Research Prize, France's highest award for drug discovery. This world-class scientist would hardly risk his reputation and tarnish his brilliant career for a single example in the prosecution of a patent for an invention in which he was not even involved.".
Result: The direct narrow result of this case is that patent applicants should clearly state experimental differences when comparing a claimed compound or method with the prior art. More broadly, this decision creates yet another reason for applicants to favor short & clean prosecution. It also emphasizes the importance of using a patent attorney or agent that truly understands the science behind each submission.