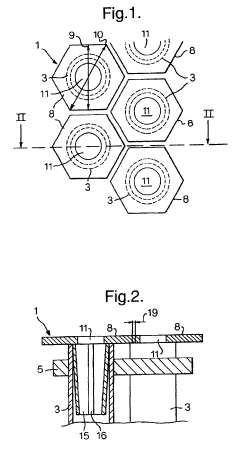 Cat Tech LLC v. TubeMaster, Inc. (Fed. Cir. 2008)
Cat sued TubeMaster — alleging infringement of its patent covering a method of using a catalyst loading devices to simultaneously load thousands of tube reactors. Cat's infringement allegations were focused on one particular TubeMaster commercial configuration. During the litigation, TubeMaster filed a counterclaim for declaratory relief that its other three configurations did not infringe. On appeal, the CAFC first looked to see whether the district court had proper jurisdiction over the declaratory relief counterclaims.
In MedImmune, the Supreme Court rejected the Federal Circuit's "rigid" two prong test for DJ jurisdiction that required that the DJ plaintiff (1) have a reasonable apprehension that the patentee will file suit and (2) conduct "meaningful preparation" to conduct potentially infringing activity. The MedImmune decision eliminated the first prong — finding the that the "reasonable apprehension" test excluded at least some actual "cases and controversies" under Article III of the U.S. Constitution.
New Multi-Factor Test for Declaratory Judgment Jurisdiction: In Cat Tech, the Federal Circuit found that the second prong of "meaningful preparation" is still intact — at least as a factor working to determine whether a dispute is immedate and real.
"[T]he issue of whether there has been meaningful preparation to conduct potentially infringing activity remains an important element in the totality of circumstances which must be considered in determining whether a declaratory judgment is appropriate. . . . If a declaratory judgment plaintiff has not taken significant, concrete steps to conduct infringing activity, the dispute is neither 'immediate' nor 'real' and the requirements for justiciability have not been met."
From this decision by Judge Mayer, it appears that the new test for DJ jurisdiction has moved from two prongs to a broader "totality of the circumstances" under the umbrella of a "fundamental inquiry" of "whether the facts alleged, under all the circumstances, show that there is a substantial controversy, between parties having adverse legal interests, of sufficient immediacy and reality to warrant the issuance of a declaratory judgment." (quoting MedImmune). Meaningful preparation toward potential infringing activity is important (but perhaps not a required element) in this fundamental inquiry because actual steps taken toward infringement are indicators of both "immediacy and reality."
On the facts of this case, the CAFC found "meaningful preparation" toward each product was sufficiently shown by "AutoCAD drawings for each of its four configurations"; successful manufacture of one of the configurations; being ready to deliver products under any configuration "within a normal delivery schedule" after receiving an order; and because the company "does not expect to make substantial modifications to its loading device designs once production begins."
Finally, although also a factor in the analysis, the fact that TubeMaster had not created any sales literature or begun advertising its alternate configurations did not negate the immediacy and reality of the controversy.
Affirmed.