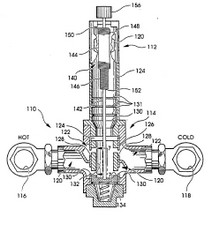 Lawler Mfg. v. Bradley Corp. (Fed. Cir. 2008)(nonprecedential)
In 2001, Lawler and Bradley settled a patent infringement lawsuit and entered into a contractual license agreement. Bradley was given the right to practice Lawler's plumbing valve patents in exchange for a 10% royalty. The license included a combination royalty provision. The royalty licensed parts sold in combination would be charged at a separate (likely lower) royalty rate.
The dispute on appeal was whether a set of example combinations included in the contract limited the "combination" royalty rate to only a limited set. The particular contract provision read as follows:
"If a Licensed Unit is invoiced or shipped in combination in another product such as an emergency shower or eyewash, [then the combination rate applies.]"
De Novo Construction: Looking much like a claim construction opinion, the CAFC reviewed the contract language de novo (following Indiana law) and reversed the lower court interpretation. In particular, the court found that the "such as" language of the contract limited the combination royalty to only a limited set of combinations. The CAFC found its interpretation necessary to give meaning to the such as clause. As with Federal Circuit claim construction law, Indiana contract law has a preference for giving meaning and effect to all written terms.
"The question before us is whether that term, read in the context of the agreement, is restrictive, as Lawler urges, or merely explanatory, as the court found. We find that it is restrictive. "Such as" refers to items similar to what are recited rather than indicating that the recited items are just examples of what is covered by that provision. . . . The parties' inclusion of the "such as" phrase … must either have been intended to provide some guidance as to the limited types of combinations that the parties contemplated … or to provide meaningless surplusage. Indiana law constrains us from finding the latter."
Reversed and remanded.
In dissent, Judge Mayer saw the "such as" language as merely providing examples in much the same way that embodiments provide example implementations of an invention. "[E]mergency eyewashes and showers are examples of combination products, but they are not the only combination products covered by section 3.1 of the licensing agreement."