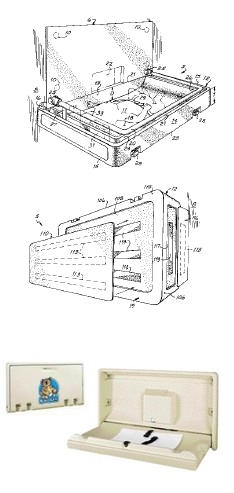 Helmsderfer v. Bobrick Washroom Equipment (Fed. Cir. 2008)
John Helmsderfer sued Bobrick for infringement of its patent covering tamper-resistant diaper changing stations. After a markman hearing, the Southern District of Ohio district court awarded the defendants summary judgment of non-infringement. Helmsderfer appeals on claim construction.
Partially Hidden from View: The claims include a top surface platform that is "partially hidden from view." On appeal, the patentee argued that "partially hidden" could include "totally hidden." The CAFC disagreed for two textual reasons:
The patent used "generally" in other portions of the claim but not for this element — providing evidence that the patentee was intentionally distinguishing between those two modifiers.
The patent used "at least" in other portions of the claim but not for this element — providing evidence that in this case the patentee did not intend to claim "at least partially."
Quoting its own 2000 CAE Screenplates decision, the court reasoned that "[i]n the absence of evidence to the contrary, we must presume that the use of these different terms in the claims connotes different meanings." Here, the court could find no evidence to find that partially should include totally.
Exclusion of preferred embodiment: The applicant did point that its preferred embodiment and also "every illustrated embodiment" would be excluded by the narrow definition of "partially hidden." The CAFC, however, rejected that such an exclusion creates any problem here. In particular, the court noted that it was analyzing only teh two claims (6–7) at issue in the case — "[O]ur construction of claims 6–7 leaves open the possibility that claims not at issue in this appeal encompass omitted embodiments. It is often the caes that different claims are directed to and cover different disclosed embodiments. The patentee chooses the language and accordingly the scope of his claims."
The appellate panel gave lip service to the precedential canon of avoiding claim interpretation that "excludes the preferred embodiment from the scope of the invention." However, in the end the court gave absolutely no weight to that "caution" in its claim interpretation. Rather, the decision notes the distinction between the patent as a whole and the particular asserted claims. In this case, the court noted that other claims are included in the patent and that those may be the ones that cover the preferred embodiment.
This interpretation falls on the heels of the PSN Illinois v. Ivoclar Vivadent holding that sometimes unasserted or cancelled claims directed to a particular disclosed embodiment may actually serve as evidence that the scope of the asserted claims does not extend to that embodiment. PSN Illinois – written by Judge Michel – applies the sensible notion that non-asserted or cancelled claims should be examined to determine if the preferred embodiment is found there. Helmsderfer extends that notion by creating an apparent presumption that – if non-asserted claims exist, then the court need not consider the rule of construction that encourages encompasing preferred embodiments.
Notes:
Preferred Embodiment: Relation to Tafas v. Dudas: Although the patentee lost here, Judge Moore's decision here creates some interesting support for the Tafas case – by holding that it is the patentee's right to file alternative claims to cover various parts of the disclosed embodiment.
Drafting Thoughts: Non-numeric range limitations – such as "partially" – have benefits and potential liabilities. When including a limitation of this type, you may do well to consider what prior art you are attempting to avoid — and consequently claim either "at least partially" or "at most partially."