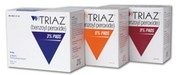 Prasco LLC v Medicis Pharmaceutical Corp. and Imaginative Research (Fed. Cir. 2008)
Imaginative Research owns of several patents covering a prescription strength benzoyl peroxide wash. Medicis is the exclusive licensee and sells the product under the brand name TRIAZ. The patents are listed on the box.
Prasco makes a generic version (OSCION) and allegedly competes directly with TRIAZ.
Wanting to avoid the cloud of potential infringement, Prasco filed a declaratory judgment lawsuit against the patentee and licensee alleging non-infringement of the listed patents. The case was dismissed for lack of declaratory judgment jurisdiction, Prasco appealed.
Prasco admits that the DJ defendants did not know about the generic competition until it received the complaint. However, Prasco argued that Article III jurisdiction exists because the defendants (1) listed its patents on a directly competitive product and (2) Medicis had previously sued Prasco (for infringement of a different patent by a different product). The defendants also refused to sign a covenant not to sue.
Cases or Controversies: Article III of the Constitution limits the reach of federal judicial power to the adjudication of "cases" or "controversies." This requirement has been interpreted to encompass only disputes that are "definite and concrete, touching the legal relations of parties having adverse legal interests," "real and substantial," and "admi[t] of specific relief through a decree of a conclusive character, as distinguished from an opinion advising what the law would be upon a hypothetical state of facts."
In MedImmune, the Supreme Court rejected the CAFC's original test for DJ Jurisdiction that required a "reasonable apprehension" of immanent litigation and replaced it with an amorphous requirement of a "substantial controversy . . . of sufficient immediacy."
On appeal, the CAFC affirmed that Prasco's controversy is not sufficient to be justiciable.
Although MedImmune clarified that an injury-in-fact sufficient to create an actual controversy can exist even when there is no apprehension of suit, it did not change the bedrock rule that a case or controversy must be based on a real and immediate injury or threat of future injury that is caused by the defendants—an objective standard that cannot be met by a purely subjective or speculative fear of future harm.
The court further held that DJ jurisdiction does not exist "without some affirmative act by the patentee."
Regarding marking, the court found that the marking of "products with the applicable patents provides little, if any evidence that [the patentee] will ever enforce its patents."