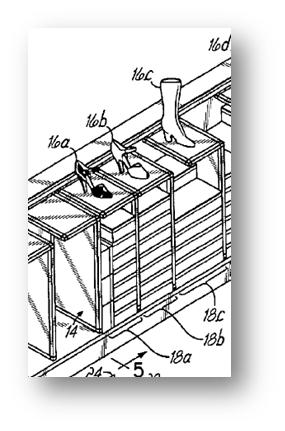 DSW Shoe Warehouse v. Shoe Pavilion (Fed. Cir. 2008)
DSW holds a utility patent and a design patent on a shoe display system. In 2006, DSW notified off-brand competitor Shoe Pavilion that its displays were infringing. Wanting to avoid trouble, Shoe Pavilion took immediate action and removed the infringing displays. (Although immediately begun, the whole take-down process took seven months.) DSW was not satisfied that the replacement design avoided infringement and subsequently sued.
Damages and Notice: The case raises several issues, but here I will focus on damages. On summary judgment, the district court held that Shoe Pavilion owed no damages for infringement by the initial design because the defendant took immediate action to stop infringing. On appeal, the CAFC vacated that opinion.
The Patent Marking Statute limits damages that may be recovered by a patentee.
In the event of failure so to mark, no damages shall be recovered by the patentee in any action for infringement, except on proof that the infringer was notified of the infringement and continued to infringe thereafter, in which event damages may be recovered only for infringement occurring after such notice. 35 U.S.C. §287(a).
The Pre-1952 Patent Statute included a similar restriction on damages. That statute was interpreted by the Supreme Court in Wine Railway (1936). There, the court held that the recovery by patentee who failed to mark products covered by the patent would be limited to damages incurred after actual notice was provided to the infringer.
The policy behind this approach is to give some level of protection to innocent infringers. However, damages begin to accrue as soon as notice is given. Thus, in this case, Shoe Pavilion is liable for the damages that occurred during the seven-month take down process.
"Without a doubt, the law offers an infringer no exception to liability for the time it takes to terminate infringing activities, no matter how expeditious and reasonable its efforts."
Vacated and remanded.
Notes:
The court also vacated based on an error of claim construction – finding that the claimed "track and roller" was not limited by the preferred embodiment found in the specification.