The PatentBuddy website has mined your registration data from the USPTO and created some interesting results. They have found that folks are leaving large law firms more quickly than before. [LINK]. Speaking of jobs: Ten new job listings in the past ten days on the Patently-O Job Board.
Public Interest in Patent Law Declining: The graph below shows the relative frequency of Google searches for Patent Law.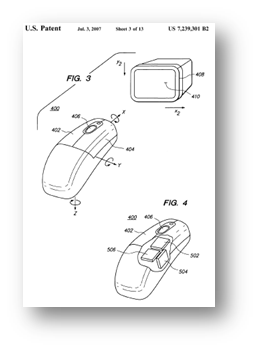 Nintendo Wii: I was planning to buy the Wii as soon as it reaches Columbia Missouri . . . Now the company Hillcrest Labs has filed both an ITC complaint and a federal patent case requesting that the commission institute a Section 337 investigation of the Wii and its "three-dimensional pointing devices." The complaints allege infringement of four Hillcrest patents: U.S. Patent Nos. 7,139,983, 7,158,118, 7,262,760, and 7,414,611. The patents include several broad claims directed toward pointing devices that use internal accelerometers to track movements (and the lack of movement) and have a priority date of sometime in 2004. The '611 patent issued on August 19, 2008 and the claims appear directed at capturing the Wii.