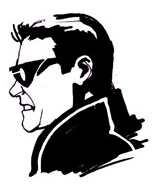 1st Technology v. Rational Ent. and Bodog (Fed. Cir. 2008)
1st Technology won a default patent infringement judgment against the online gambling company Bodog and the Nevada district court awarded $46 million in damages plus interest. The patentee has been enforcing the judgment by attaching Bodog's US assets – including its domain names and trademark registrations. Without opinion, the Federal Circuit has affirmed that judgment.
On appeal, Bodog argued that it was not properly served notice of the litigation and that the Nevada court lacked personal jurisdiction over the company. 1st argues that the service (to a Bodog's Costa Rica office) was proper and that by not arriving in court Bodog had waived its personal jurisdiction argument. In addition, plaintiffs cite to a 2005 Forbes article noting how "in 2005, the Bodog entities handled $7.3 billion in online wagers, 95% of which came from the United States, with sales increasing every year. [Bodog's founder] Mr. Ayre pays no United States income tax, and prides himself on the fact that he and the Bodog entities routinely evade United States law."
Links:
Cartoon: Calvin Ayre has his own superhero cartoon: Ayre Force.