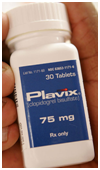 Apotex Inc. v. Sanofi-Synthelabo Canada Inc., 2008 SCC 61 (Canada Supreme Court 2008)
The Supreme Court of Canada has upheld Sanofi's "selection patent" (the '875 patent) covering the blockbuster anti-clotting drug Plavix. A broader "genus" patent (the '777 patent) – also held by Sanofi – discloses over 250,000 different compounds. The narrower patent does have some additional patent scope. In particular, while '875 patent claims a particular dextro-rotatory isomer, the prior '777 patent only describes a racemate of that compound that includes two different isomers.
As an apparent "evergreening" strategy, Sanofi did not claim priority to its earlier patent filing. This allows for an additional decade of patent term. Looking at the case, the Supreme Court determined that it should simply follow the law of novelty and obviousness and not create any special 'evergreening' exception:
[97] Evergreening is a legitimate concern and, depending on the circumstances, strategies that attempt to extend the time limit of exclusivity of a patent may be contrary to the objectives of the Patent Act. The Act aims to promote inventiveness by conferring exclusivity for a limited period of time while providing for public disclosure of the invention to enable others to make or use it after expiry of the period of exclusivity.
[98] However, a generalized concern about evergreening is not a justification for an attack on the doctrine of selection patents for two reasons. First, a selection patent may be sought by a party other than the inventor or owner of the original genus patent. In such a case, anticipation or obviousness may be an issue, but evergreening does not arise.
On obviousness, the court found "a significant difference" between the claimed patent and the prior genus patent, and that the "difference was not obvious."