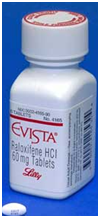 Eli Lilly v. Teva Pharmaceuticals (Fed. Cir. 2009)
Teva is hoping to make a generic version of Lilly's Evista brand raloxifene tablets that are used to help prevent postmenopausal osteoporosis. In May 2006, Teva filed an abbreviated new drug agreement (ANDA) and Lilly subsequently sued for patent infringement and to block the generic release. Under the law, after the patentee files suit, the FDA cannot then approve the generic for thirty months "unless the court has extended or reduced the period because of a failure of either [party] to cooperate reasonably in expediting the action." This is commonly known as the "thirty month stay."
In this case, the court originally set a trial date four months after the end of the thirty month period. In the months leading up to trial Teva altered its proposed generic formulation, which changed Lilly's litigation strategy. As a result, the district court ordered that the FDA thirty month stay be extended for four extra months – until May 2009. Teva filed an emergency appeal to lift the stay.
On appeal, a split Federal Circuit panel affirmed – finding that the district court acted within its discretion in extending the stay based on Teva's activity. "Trial courts, thus, may shorten or extend the thirty-month statutory period based on the parties' uncooperative discovery practices before the court." In its decision, the court distinguished the 2002 Andrx v. Bioval case. In Andrx, the Federal Circuit found that the district court had abused its discretion in shortening a thirty-month stay based on a party's "positions before the FDA." Rather, changes to the thirty-month period must be based on failure to cooperate court.
In dissent, Judge Prost argued that the majority misinterpreted the statute to grant too much deference to the district court in extending the stay. Rather, the statute requires that the stay should only be extended when a party fails "to cooperate reasonably in expediting the action." Here, Judge Prost argues, the lower court did not find that Teva failed to cooperate, but only that Lilly could use more time to respond. The statute is limited in a way that does not allow extension of the stay in that situation.
Notes:
Judge Rader wrote the majority opinion and was joined by Chief Judge Michel.
On the expedited schedule, Appellant filed its principle brief November 24, 2008; briefing was complete on December 30, 2008; Oral arguments were heard on January 14, 2009; and a decision rendered on February 24, 2009.