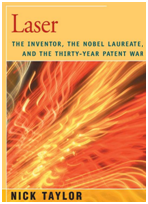 By Charles L. Gholz
Patent interferences are intellectually stimulating and often a lot of fun–at least for the attorneys involved. However, I've seldom thought of them as "capable of producing a hell of a good story," which is the author's assessment of the story he tells in Taylor, LASER: The Inventor, The Nobel Laureate, and The Thirty-Year Patent War. Of course, the laser was unquestionably one of the great inventions of the Twentieth Century, and the fact that the issue of who invented it (Prof. Charles Townes or his grad student, Gordon Gould) provided gainful employment for patent attorneys for thirty years certainly commends this book to the readership of this publication.
Actually, "gainful employment for patent attorneys" better describes the situation of those who supported Prof. Townes's claims than the situation of those who supported Mr. Gould's claims. (Tellingly, Gordon Gould never did get his doctorate.) However, the fact that those who worked for Mr. Gould "on the cuff" for many years were ultimately amply rewarded makes it a heart-warming story for most of us.
Moreover, the professor/grad student controversy is a familiar one–and one that is usually difficult for even the best intentioned objective observers (including members of the interference bar) to sort out. Just as "mistakes were made" during the Reagan administration, an "invention was made" while Gordon Gould was working for Prof. Townes. But who made it? According to this book (and according to the final judicial determination), Gordon Gould made at least part of the overall invention of the laser—a part which was essential to the commercialization of lasers. However, I've been involved in enough of these disputes to suspect both that the final judicial determination could have gone the other way and that, if that had happened, an equally plausible (and interesting) book could have been written about Prof. Townes.
What made this book particularly entertaining for me was the fact that many of the principal players in the drama (judges, Patent Office officials, and lawyers) are still alive or have been within recent memory. It's always fun to read about folks you know and to realize that they were involved in a truly historic controversy.
In addition, the parts of the story concerning Gordon Gould as a prickly, overly suspicious "basement inventor" rang true for me. Most of us have dealt with some of those in our time at the bar, and it's never easy.
On the negative side, however, I should warn prospective readers that the manuscript was apparently not read by a patent lawyer—let alone by an interference specialist. It is replete with legal howlers! However, if one reads it with the proper attitude, noting those howlers is part of the fun.