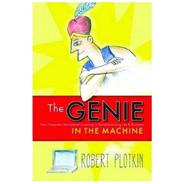 I just received a copy of Robert Plotkin's new book: The Genie in the Machine: How Computer-Automated Inventing is Revolutionizing Law and Business. The book is just out from Stanford Law Books. It is a great read for a good price ($20.00 from Amazon).
Plotkin's new book begins with the reality: many products and processes used today were created through automated software. In Plotkin's book, the automated software is akin to a genie granting the wishes demanded by software developers. The trend toward automated inventing will likely continue to grow as both computing power and the level of problem-complication increase.
Plotkin is a patent attorney and has been a leader of software law for the past decade. Most of the book is spent considering how patent law interacts (and should interact) with computer created inventions. Plotkin believes that automated computer-generated inventions should be patentable. However, he would make some changes to ensure that the computer inventions are not overbroad.
"We need . . . to reinterpret [the patent] rules in light of artificial invention technology to ensure that they continue to achieve their original goals, just as a butcher recalibrates a scale after it has been in long use . . . In particular, we need to strictly apply patent law's utility requirement and its distinction between abstract ideas and practical applications [to] protect against the worst kind of abuses"