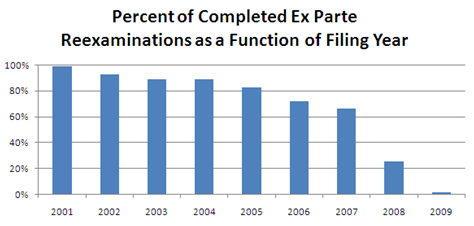 The timing of reexaminations is especially important because a large percentage (around 30%) are associated with co-pending litigation. The chart above reports on the current status of ex parte reexaminations as of June 5, 2009. The vertical axis measures the percentage of reexaminations that have been completed – i.e., cases where either a reexamination certificate has been issued or the reexamination was otherwise terminated. The horizontal axis groups the data by filing year of the reexamination.
The prosecution history of these files shows that on average, the PTO issues a first non-final rejection within about one year of the filing of the reexamination (360 days). For reexaminations filed 2001-2004, the average pendency is just over three years (1120 days). This average will increase as the still-pending reissues are eventually completed.
In September 2009, I will be speaking on reexamination issues at the IPO annual meeting in Chicago.