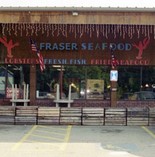 Fraser v. High Liner Foods, et. al. (Fed. Cir. 2009)(non-precedential)
Acting pro-se, Alfred and Paul Fraser sued a handful of fish-stick makers for patent infringement. The Frasers apparently run
The Fraser Patent No. 4,781,930 covers a method of soaking fish in oil before freezing the fillets. The only claim reads as follows:
A method of preparing a fish product comprising filleting a fish to appropriate thickness, immediately immersing the filleted fish in a vegetable oil for a period of 5 to 10 minutes at room temperature to effect absorption of the oil to a depth such as to inhibit excretion of the natural fluids from the fillet and prevent incursion of air and moisture, draining the excess oil from the surface, covering the surface with crumbs and then freezing the fillet.
The district court granted summary judgment in favor of the defendants:
Defendant Midship could not be liable because that company was dissolved more than six years before Frasier filed suit. 35 U.S.C. § 286.
Defendant Good Harbor was dissolved bankruptcy in 2006. It cannot be held liable.
Defendants UNFI and National Fish were never properly served and thus cannot be required to appear in court. The court noted that "A return of service merely noting delivery to 'girl at front disk' does not comply with the strictures of Fed. R. Civ. P. 4(h) or Mass. R. Civ. P. 4(d)(2) with respect to service on a corporation."
Defendants Gorton's, Roche Bros., ConAgra, High Liner, and Pinnacle did not infringe, literally or by equivalents. "None of the five appellees immerse their frozen fish products in a vegetable oil for a period of 5 to 10 minutes at room temperature. Further, none of these appellees begin preparing frozen fish fillets using fresh fillets."
The Federal Circuit affirmed each of these decisions and then turned to the issue of sanctions:
"The district court noted that Appellants did not provide any of the defendants with any notice of their patent, that they did not question any defendant concerning the manner of fish processing, and in the case of Midship and Good Harbor, that they did not even inquire as to the existence of these defendants prior to bringing suit. The record shows that Appellants proceeded to file suit without ascertaining correct names of some defendants. Despite detailed letters from counsel for various defendants explaining their clients' processes and pointing out the differences between those processes and the patented process, Appellants continued to press forth the litigation. Appellants continued despite the district court's clear explanation at a hearing that they could not prove infringement merely by proving the presence of oil as an ingredient on the list of the products at issue."
In the end, the court affirmed the minimal sanction of only $500 per defendant.