Although inventing can still be a solo endeavor, patenting data indicates that paradigm no longer predominates. Over the past four decades, the number of inventors per patent has steadily crept upward. The first chart below shows the average number of inventors per patent moving from 1.6 for patents issued in the 1970's to 2.5 for patents issued since 2000.*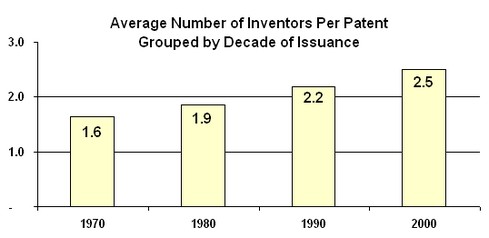 As the chart below shows, this rising average is being driven by a dramatic increase in the proportion of "highly collaborative" inventions with three or more listed inventors. That rise is coupled with a proportional decrease in the proportion of solo inventions. Interestingly, the proportion of two-inventor patents has stayed relatively steady throughout the entire time period.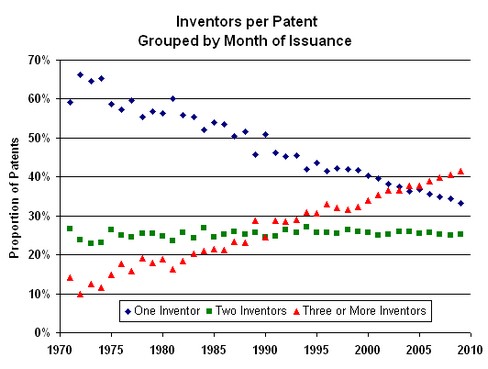 Some areas of technology lend themselves to team work. Biotech research and drug development is typically extremely expensive and done in structured teams while lower-tech areas may not be so structured. Compare, for instance patents in classes 514 (drugs) and 435 (chemistry of molecular biology) with patents in classes 135 (tents) and 297 (chairs). The first group averages three times the number of inventors as the second group.
It may also be that team-built inventions are more likely to get funding and be patented. Thus, non-US applicants are more likely to spend patenting money in the US on multi-inventor applicants. Likewise, multi-inventor applications are likely to have larger patent families through continuations and CIPs.
The rugged individualists are still out there – they are just getting more lonesome.
Notes:
This data is derived from a sample of 750,000 patents issued from August 1971 through February 2009. All reported results are significant at the 99% confidence level.