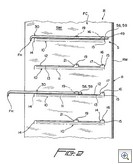 Gemtron v. Saint-Gobain (Fed. Cir. 2009)
The Michigan-based district court found that Saint-Gobain's refrigerator shelves infringe Gemtron's patent No. 6,679,573 and awarded a permanent injunction against further infringement. The shelves were unique – primarily because the glass panel shelf securly snaps into its plastic frame rather than being held by adhesives. The claims required the plastic fram to be "relatively resiliant" so that the glass could snap into place.
The claim construction issue was interesting because it focused on timing. Saint-Gobain's plastic frame was resiliant while still warm immediately after forming. However, it quickly hardened and became brittle afterward. The accused infringer argued that the limitation "'relatively resilient' should not mean 'temporarily resilient immediately after cooking in an oven and before any opportunity to cool.'"
On appeal, the Federal Circuit affirmed – finding that the purpose of the resiliance (to install the glass panel) "suggests that the claimed resilience of the frame need only be exhibited during assembly."
There is no discussion in the specification of any purpose for or value of the "relatively resilient" structural characteristic …, other than to facilitate assembly of the shelf. This indicates that the end edge portions of the frame have the claimed structural characteristic—"relatively resilient"—if they are able to deflect at the time the shelf is assembled, to "snap-secure" the glass panel within the frame.
Affirmed.
Note: The permanent injunction was affirmed without comment.