In a prior post, I discussed the USPTO's planned docket-change for applications associated with a request for continued examination (RCE). See Nudging Against RCE Filings. According to the RCE Docket proposal, when an applicant files an RCE, the pending application will be taken off the examiner's in-prosecution docket and placed in the "special-new" queue that is primarily filled with continuation applications. This new approach will result in RCE's being handled much more slowly.
The graph below is a rough-cut attempt to compare the "special-new" queue with the RCE queue. The data comes from a set of eight thousand randomly selected patent applications filed 2001-2006 whose file histories have been made public on PAIR. The graph shows three groupings or application scenarios and the average delay from applicant filing to the receipt of a first office action for each. In my sample of continuation applications, the average PTO delay in mailing a first office action was a bit over six hundred days. On the other hand, after receiving an RCE, the average PTO delay in issuing an office action was less than three months.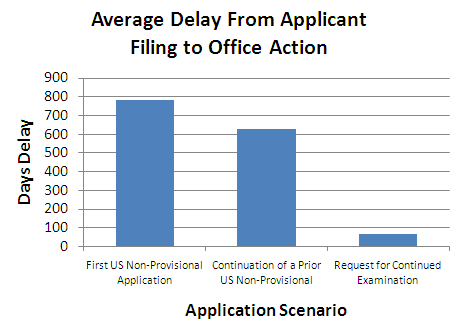 The proposed change docket-change would essentially take the RCE group and combine it with the continuation group – likely adding over 18-months delay to RCE processing. As Scott Kamholz suggested, this will likely lead to a patent term adjustment (PTA) "bonanza." This may become a favored approach for applicants looking to extend their patent term. Submarine anyone?
Because of the large sample size, the differences in delay between the groupings are all significant (P<.01). However, there are a number of potential confounding factors – perhaps most notably is a selection bias associated areas of technology. I did not correct for those potential problems in this rough-cut.
UPDATE: The following comment comes from a PTO Insider:
The difference here is the initial docketing to examiners. An RCE will cause the application to be automatically redocketed to an examiner's Special New tab immediately once the LIE processes the RCE. Continuations, on the other hand, are not automatically docketed to examiners in this fashion, hence the pendency on the same order as normal non-continuation filings. Most of this time (after pre-exam) is spent on a SPE docket or no docket at all, awaiting eventual docketing to an examiner, just like normal non-continuation apps. While it's likely that RCEs on the Special New docket will increase the time to next action for those cases, it won't be anything even remotely comparable to 600+ days.