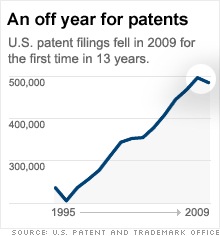 via CNN in an article titled: "Recession's latest victim: U.S. innovation."
Dennis Crouch's Comment: Patent filings are clearly down, but I don't know that I agree with the reporter's conclusion that therefore "U.S. innovation took a step backward for the first time in 13 years."
There is almost certainly a link between patenting and innovation. However, a single-year drop in patenting does not necessarily correlate with a drop in innovation — especially since there is often a lag of 6-12 months from the invention date to the utility patent filing date.
Further, I tend to attribute huge rise in patenting activity over the past two decades more to a perceived strengthening of the patent right and less to an actual increase in innovations. In recent years, court decisions and threatened action from congress may have reduced the perceived potential value of the patent right — thus lowering demand. Perhaps now, applicants are filing fewer 'junk' patents.
Finally, the report also misses the reality that about half of US patent applications stem from a non-US entity and those filings often have a multi-year lag between the innovation and the US patent application filing. It will be interesting to see which group (US vs. Foreign entities) have seen greater reduction in their patent filing activity.