The BPAI reports that their average pendency of ex parte appeals decided in the 1st Quarter of FY2010 (Oct-Dec 2009) jumped to 9.9 months from 7.7 months for the prior three month period. [Link] BPAI Chief Judge Michael Fleming recently reported that the average pendency is likely to rise significantly in the coming year because of the large and growing backlog of cases on appeal.
The BPAI has done an increasingly good job of providing information directly to the public. However, this pendency data is highly misleading for a patent applicant considering the question of whether to appeal.  In particular, the BPAI figures are measured from the "appeal number assignment dates" which occur at some point after briefing is complete and therefore do not include time associated with briefing.
To provide a bit more details regarding pendency, I created a dataset of 2770 ex parte BPAI decisions decided in the past two-years (2008–2009) and their assocated file wrappers.  Using this dataset, I looked at appeal pendency as calculated from the filing of a notice appeal to the BPAI decision date. A summary of the results follow.
Results:
Median appeal pendency: 23.9 months (Notice of Appeal to BPAI Decision Date).
Median pendency of application at time of BPAI decision: 67 months (Application Filing Date to BPAI Decision Date).  I.e., the median case where an appeal has been decided had been pending for 5 1/2 years before the
Median pendency of application family at time of BPAI decision: 79 months (Earliest Priority Date to BPAI Decision Date).
Defective Briefs: 40% of the decided cases included at least one applicant brief that was rejected as defective.
There are three charts below: The first shows the Cumulative Frequency of Ex Parte Appeal Pendency.  This first chart is useful in considering the odds that a particular appeal would take fewer than X-months. The second chart shows the median pendency grouped by technology center. The third chart shows the percent of decided appeals that include at least one notice of a defective appeal brief for each technology center. 
Looking Forward: As implied by the first paragraph of this report, these figures likely understate the expected pendency for any recently filed appeal.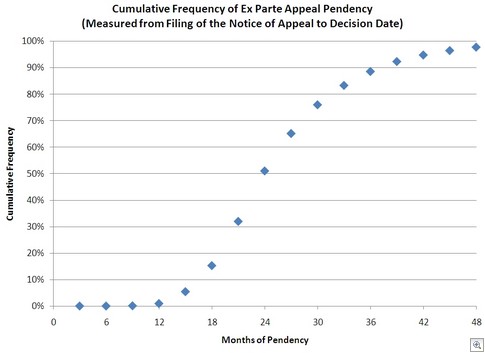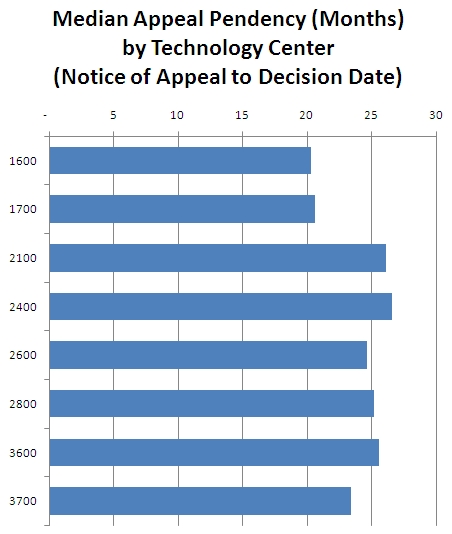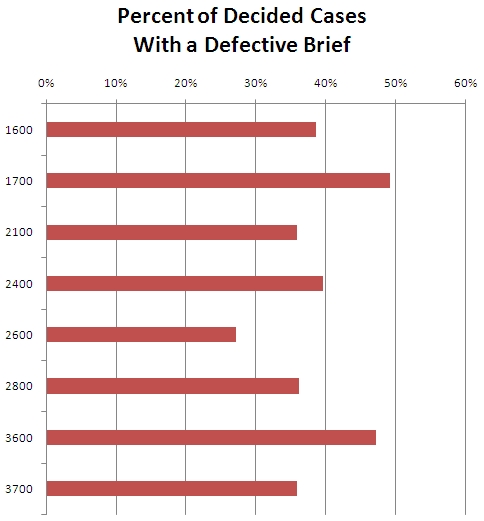 Notes:
This report did not consider (1) remands without opinion; (2) decisions that were not published on the BPAI website; or (3) the fact that most notices of appeal filed by applicants do not actually result in a complete appeal process (because the examiner withdraws the rejection or the applicant decides to abandon the application or file an RCE).
See also: https://patentlyo.com/patent/2007/09/how-long-does-a.html (2007).