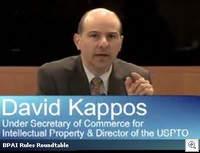 In a recent e-mail to PTO employees, Director Kappos explained a real problem associated with PTO funding for the next year — that 1.9 billion dollars will not be enough for FY2010. Although that seems like a lot of money, the PTO's technology infrastructure is in dire need of an overhaul and the agency needs to hire additional examiners to reduce the current backlog of over one million pending applications. It appears likely that the PTO will collect over two billion dollars in user fees for FY2010, but the current funding rules would force the agency remit any amount over $1.887 billion to the US Treasury.
To recap, the PTO is (1) entirely funded by by user fees and (2) has significant financial needs to address shortfalls in serving its users. In this situation, the agency should at least be authorized to spend the fees that it collects.
== Kappos Letter ==
Dear Team:
I wanted to share my thoughts with you about a topic of great import to the USPTO and its mission. As you've read in the press, we have been engaged in ongoing discussions with members of Congress and their staff regarding our budget for the current fiscal year, which began on October 1, 2009. In addition, we have been providing technical assistance to Congress in connection with patent reform legislation, which is geared toward placing the USPTO on a sustainable funding model.
Innovation is the engine of our economy, and an efficient USPTO facilitates the timely delivery of innovative goods and services to market. What we do here at the USPTO is therefore of paramount importance to economic recovery and job creation.
As you know, the USPTO has been struggling in the last year to put itself on solid financial footing. Declines in fee revenue during the recession have adversely impacted our budget – and as a consequence forced us to make hard choices – including halting virtually all hiring, limiting overtime, and postponing critical repairs to our information technology infrastructure.
As part of the annual appropriations process, our financial team was asked to provide Congress with projected fee income for the 2010 fiscal year. This information was provided in September based on the data available at that time, when agency collections were at their low point. Congress used that projection of $1.887 billion in setting our budget for the 2010 fiscal year. That budget forces us to maintain operations on a bare-bones basis, but provides insufficient resources for us to replace employees who leave the agency, improve infrastructure or continue some of the improvements we have started to implement.
In addition, in the last two years, Congress had provided the USPTO a buffer of $100 million above our appropriation, which we were authorized to retain and spend to the extent fee income exceeded our appropriation (up to the $100 million buffer amount). That provision was removed from our fiscal year 2010 appropriation, due (we have been advised) to changes in Congressional Budget Office accounting which made it more difficult for our appropriators to provide the $100 million buffer this year.
The good news is that fee collections have begun to increase, and our current FY10 projections are more than $100 million above the $1.887 billion appropriations amount. We are actively working with Congress and the Administration to find ways to retain funds in excess of the $1.887 billion spending cap so that we can begin to backfill departing employees, improve our infrastructure, and continue to implement reforms.
But let me be clear about this: Hiring large numbers of people is not the silver-bullet solution to our problems, and we intend to hire conservatively and smartly. Most of you are aware that we have launched many reforms since I came on board last August, and we are now aggressively implementing them and looking for new ways to be more efficient on a constant basis. However, there is simply no way to get the backlog under control in a reasonable period of time without significant hiring given current attrition rates. You can run the numbers yourselves using the Patent Pendency Model and I would encourage you to do that.
Our infrastructure needs are also dire – so dire that President Obama referenced the USPTO's antiquated IT systems in his remarks last week on modernizing government. We must improve those systems to become an efficient 21st century agency – and to be able to effectively serve the innovation community and the American economy.
It is therefore imperative that we work with Congress to develop long-term financial solutions that will establish a sustainable budget for USPTO over multiple years. Providing the USPTO with fee-setting authority as included in the pending patent reform legislation would be part of that plan. But, for the current year, we have immediate and urgent funding needs that require short-term assistance.
For your reference, I've attached a copy of the letter I sent to the relevant Congressional committee members on January 4, 2010.
Addressing our financial challenges so that the Agency can function effectively is my highest priority. I remain dedicated to working with our stakeholders, the Department of Commerce and members of Congress to ensure that we are able to perform our mission properly in the short-term – and to develop and adopt a sustainable funding model that will allow us to serve this country's innovators in the future.
I want to thank you for your hard work and dedication during this challenging period for the agency. I very much look forward to hearing any thoughts you might have on this matter. Please share any comments via the Director's Blog. I will be sure to keep you posted on any significant new developments with respect to our budget.
Regards,
David Kappos