On February 26, 2010 (Friday), I will be speaking as part of the Stanford Technology Law Review annual Symposium. This year's focus is USPTO Reform.
Topics include:     
Other participants include Professors Colleen Chien (SCU), John Duffy (GWU), Jeff Lefstin (Hastings), Roberta Morris (Stanford), Arti Rai (Duke & USPTO), and Brenda Simon (Stanford) as well as Jon Dudas (Foley & Lardner), Leonard Heyman (VMWare), Ed Reines (Weil Gotschal), Robert Sachs (Fenwick & West), Lee Van Pelt (Van Pelt), Janet Xiao (Morrison Foerster), and Mallun Yen (Cisco).
* * * * *
Introduction to My Talk
Applicant Incentives: Although I have been dilatory in providing my materials for the talk (sorry!), my general themes focus on the role of patent applicant and patentee incentives in patent office reform. The incentives conversation is comfortable for intellectual property scholars and practitioners alike. The explicit Constitutional justification for patent and copyright regimes is that an offer of exclusive rights provides an incentive to "promote the progress" in the respective fields. This big-picture incentive award has already been created by the drafters of the Constitution and detailed by Congress and the Courts. Here, l take a narrow approach and consider how applicant incentives should be utilized to achieve the goals of PTO reform. Specific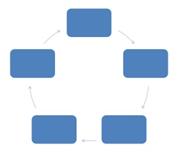 questions include:
To what extent should PTO reforms focus on modifying patent applicant behavior?
Should reforms focused on applicant-behavior lean on rules and requirements or rather employ a softer incentive approach? These "softer incentives" could be in the form of Sunsteinian Nudges or more onerous or strongly beneficial incentives.
Fees: To what extent are patent applicants sensitive to PTO fees? To what extent can (or should) the PTO use its fee structure to modify applicant behavior?
A Dynamic Feedback System: My mental starting point for the topic is Newton's third law of motion: For every action there is an equal and opposite reaction. In the simple case of billiard balls colliding on a table, those reactions are (relatively) easy to predict. In the complex patent system reactions to reforms are less predictable – especially for any particular case. It is also important to recognize that the system is dynamic. Changes in PTO operations lead to changes in patent applicant behavior. These PTO changes may take the form of rules, fees, appeal processes, personnel availability, training, etc.

Provisional patent applications have become increasingly popular since their introduction in 1995. Offering the right to file a provisional application was the first arguably most important step in shifting applicant behavior. However, the low fee, lack of formality, and ease of process in claiming priority all contribute to popularity of the form. While the government has no direct control over applicant behavior, the popularity of provisional applications was likely ensured by these positive incentives. There are many examples of applicant behavior altered by PTO practices. Increasing application fees decreases application filings; offering "free" claims increases claim filings; longer applicant deadlines result in longer waits for applicant responses; etc.
There are two observations that I want to highlight from this discussion thus far – both of which were likely already obvious to most patent folks. (1) The patent office rules & procedures impact patent applicant behavior and therefore have the potential for serving as policy levers. (2) The exerted policy lever need not create a hard-rule to be effective. Rather, non-rights-based policy choices involving fees, procedures, and default rules can also effectively shift applicant behavior. The hard-rule / soft-rule distinction is not always clear. In some situations strong incentives can have the same coercive impact as an absolute rule. (The PTO's recent attempt to limit claim and continuation filings has been described as such.)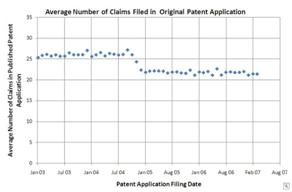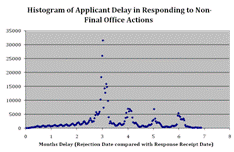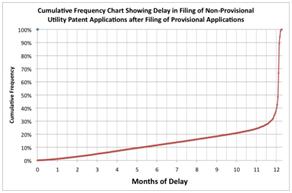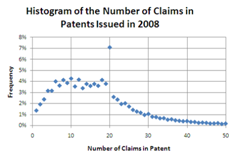 Cause of the Problems?: It is typically difficult to pin-down the root cause of problems in dynamic system with multiple independent actors. Take the current PTO backlog problem as an example. One popular explanation accuses the PTO of being too slow and issuing unnecessary rejections. On the flip-side, applicants can be blamed for filing so many applications that are difficult to examine. Both accusations have merit, but neither tells the whole story. (There was no backlog until the first application was filed…) Even while sidestepping the blame-game, this discussion leads to two additional observations. (3) Applicant behavior impacts PTO problems — thus creating the possibility that (4) shifting applicant behavior can help to resolve those problems. In other words, many goals of PTO reform could potentially be met by pushing on applicant incentives.
USPTO Fee Structure: The USPTO has always charged some fee-for-service as a way to avoid directly spending taxpayer monies on the examination and issuance of patents. In 1871, the application fee was $15. By 1952, the fee had doubled to $30 with a surcharge of $1 per additional claim over 20. By 1982, the fees had been raised by a factor of ten to $300 for filing and $10 for excess claims. Today, the filing fee (including the required search and examination fee) is $1090 and additional claims cost $52. Since 1952, the increase averages to a not-too-unreasonable annual rate of 6.4%.
Throughout this time, the USPTO has also charged an issue fee that has been roughly equivalent to the filing fee, although the current issue fee is $1510. This historic distribution is not intuitive. The filing and issue fees must all be paid before any patent rights can be asserted, and the actual PTO budget is overwhelmingly directed toward examination costs (primarily examiner salaries). Only a small part of the budget is spent on the ministerial process of issuing the patent. The filing fee / issue fee distribution is a policy lever. A relatively low filing fee encourages applicants to "take a chance" on patenting inventions that are only marginally likely to be financially successful. The prosecution delay prior to payment of the issue fee gives applicant the opportunity to first determine whether a patent is worthwhile. On the other side of the argument, a relatively high filing fee could limit the absolute number of patent applications filed and also operate to encourage patent applicants to file "higher quality" applications. The PTO also charges maintenance fees (previous known as renewal fees). Perhaps more than any other fees, the maintenance fees are "pure profit" because the PTO does not work for that income.
The analysis of fees leads to the following observation: (5) Wittingly or not, the setting of USPTO fees involves policy choices that shift applicant incentives. Still, the agency (with the help of Congress) could attempt to design its fees in a way that most directly cover costs. However, that approach would waste the potential opportunity to use fees to improve the system inputs. At this point it would be a ridiculous approach, but it would not be inconceivable for the PTO to shift its fees for individual applications according to input quality measures with designated "high quality" applications paying a lower fee.
Additional Issues To be Discussed:
USPTO Deadlines, Late Fees, and Deferring Examination
USPTO Authority: To what extent should the PTO be given authority to use fees and other mechanismsto intentionally shift applicant behavior.