It is clear that the USPTO needs funding to address its backlog of yet-to-be-examined patent applications and to revitalize its information technology infrastructure. An increase in funding is largely in the interest of the patent community. The primary downside is that most of the proposed increase will be paid by the patent community as well. Three forms of increased funding are currently on the table:
Increase substantially all fees by 15%.
Allow the USPTO to set its own fees.
Allow the USPTO to retain and spend its collected fees even if they are over-budget
Fifteen Percent of What: Although a 15% increase in fees is significant. The current prosecution fees for a large entity total to $2,900. This includes Filing, Search, Examination, Publication, and Issue Fees. Many applicants pay additional fees for late responses, appeals, petitions and RCEs. The median fees paid for a large entity is probably closer to $4,000 and a 15% increase would be $600. For small-entities, the fees are reduced by 50%. Of course, the majority of the cost of patent prosecution is not found in USPTO fees, but rather in the cost of hiring patent attorneys & agents as well as the time spent by inventors and managers. For a large entity, the total cost of preparing an application and prosecuting the application through to issuance easily runs over $25,000. In that scenario, the $600 increase may be better seen as a 2.4% increase.
Trusting the USPTO: Some applicants may be worried that USPTO would rapidly increase fees if it were given the right to set its own fees. Perhaps the office would buy-into Tim Wilson's $50,000 application fee proposal. I do not believe that fear is grounded in reality. Here, I point to three practical limits on the PTO's power. First, as proposed, the fee increase would be limited to increases that allow the office to recoup its costs. Second, if the PTO raises a large excess amount in fees the extra revenue will almost certainly be taken by Congress. Knowing that, the PTO is unlikely to greatly increase fees. Finally, the current director David Kappos appears sympathetic to patent applicants and is unlikely to take actions that are truly adverse to that community as a whole.
Why not Cuts: The difficult case for the PTO is to explain why two-billion-dollars is not enough? (See tables below). I.e., should the needed money come from redirecting unhelpful spending rather than increasing revenue?
Redirection – An Office Full of Examiners: A particular thought that comes-to-mind is the potential that everyone on the patent-side who is qualified to be examining patent applications should be examining patent applications. This means that supervisors, technology center directors, quality-assurance specialists, legal advisors, international liaisons, patent attorneys, judges, petitions officers, and commissioners could all have examination dockets. Even if small, these folks are – for the most part – have a history of being productive examiners and would contribute to reducing the backlog. In addition, a refocus and reconnection on the core role of examination may also help the office both improve quality and its spirit.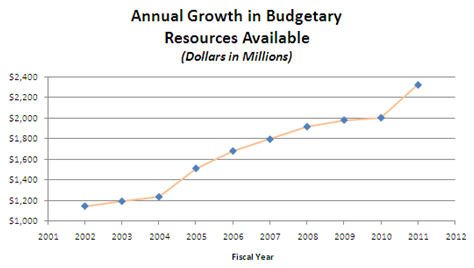 The following two charts are taken from the USPTO FY2009 Annual Report: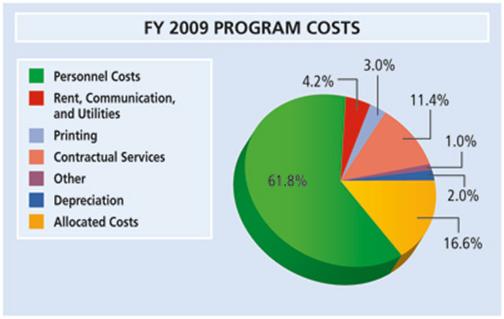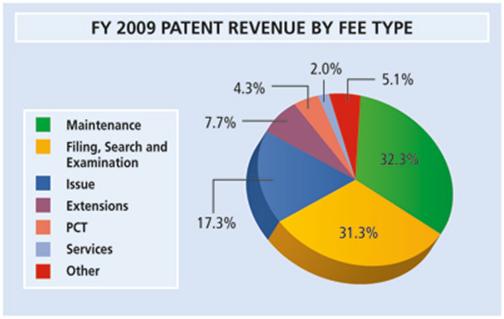 Note: A note on my $25,000 prosecution budget above. That is my own anecdotal estimate. This includes (1) the time spent by in-house inventors and managers in writing-up the invention and selecting which inventions to patent along with patenting bonuses paid to the inventors; (2) attorney time in drafting and prosecuting the patent application; and (3) fees paid to the USPTO. Is this accurate?