As part of the PTO's efforts to streamline appeal practice, the office has (internally) announced a new procedure for reviewing appeal brief formalities. Notably, the BPAI has been given the "sole responsibility" for determining whether appeal briefs are in compliance with the formalities required by 37 CFR 41.37. The USPTO has also indicated briefs will be accepted even if they contain "minor informalities" so long as those informalities do not affect the BPAI's decisionmaking ability.
The BPAI will review each opening brief before forwarding the brief to the examiner for consideration. Once the brief is accepted by the BPAI, neither the examiner nor the Patent Appeal Center will have any power to later reject the brief as non-compliant. The non-compliance form paragraphs are also being removed from the examiner's OACS computing system.
In a 2007 study of the prosecution files of 720 cases on appeal, I found that a full 25% had been rejected as 'defective' based on formalities. [Link]. A major purpose behind this power-shift is to reduce this paperwork churning and to create more uniformity in appeal processing. This shift also allows the BPAI to collect better data on the number and types of appeals being filed.
The announcement is signed by Bob Bahr, Associate Patent Commissioner (for patent examination policy).
File Attachment: bpai_revised_procedure_20100329.pdf (217 KB)
* * * *
The chart below shows the backlog of ex party BPAI appeals (excluding reexaminations). These only include cases where appellate briefing has been completed and jurisdiction transferred from the Examiner/TC to the BPAI.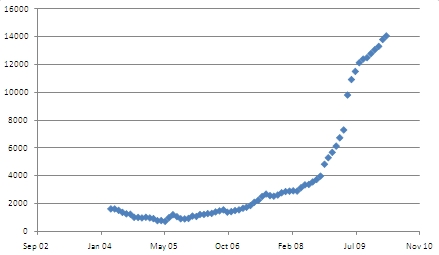 The BPAI will be holding a roundtable on April 7.