A Patently-O reader asked a question about the timing of a patent's issuance and whether the date of issue-fee payment affects the issue date. i.e., whether "the patent will issue on the same day regardless of whether the issue fee is paid immediately after receiving the notice of allowance or waiting until the statutory deadline to pay. Any thoughts?"
To answer this question, I pulled-up the file histories for 630 patents issued on June 8, 2010 and created a table comparing the respective dates of (1) the notice of allowance, (2) payment of the issue fee, and (3) issuance of the patent. I limited the sample to include only payments made within the statutory three-month window. Some file histories included multiple notices of allowance. For those, I only looked at the last-mailed notice.
Answer: As the charts shows below, the timing of issuance is closely correlated with timing of the payment of the issue fee. In my sample, 88% of the patents issued within 6–8 weeks of payment of the issue fee. Those that took longer were, for the most part, associated with older applications. In addition, the delay was greater for applicants that waited until the deadline to pay the issue fee.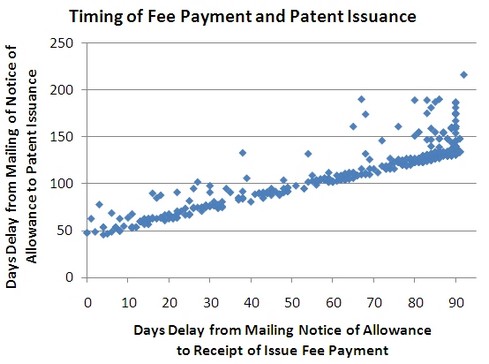 The second chart shows a histogram of delay from the payment of the issue fee until patent issuance. Most patents issue in the sixth-week after payment.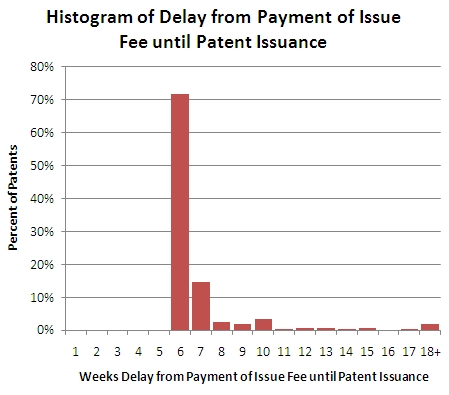 The final chart shows patent applicant delay in payment of the issue fee. The chart was created by comparing the date of issue fee payment to the three-month payment deadline. More than 50% of applicants waited until the the week of the deadline to pay their issue fee. Why the delay?