The USPTO issues patents each Tuesday morning at 12:01 am. In the past several weeks, I have reported on the rising number of patents being issued each week. The past seven-weeks rank as the top-seven weeks of all time in terms of the number of utility patents issued.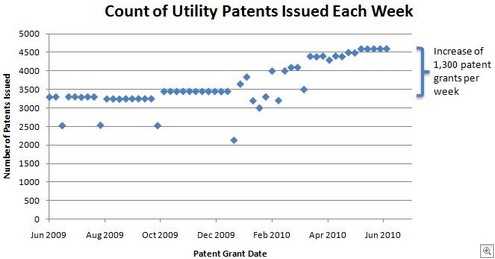 Policies and Procedures: Over the past year, the PTO has increased its weekly patent grant count by more than 30%. During that time, the PTO did not increase its budget or hire a significant number of patent examiners. The difference appears to come from two avenues: (1) changes in PTO policies and procedures that provide patent examiners more opportunity to find patentable claims and (2) changes in patent applicant behavior in favor of accepting narrower claims.
The Backlog: The rising number of grants is at least slowing the growth of the application backlog. However, it does not appear to be sufficient to actually shrink the backlog. About 8,750 utility applications are filed each week — a figure greater than the average weekly final disposals (issued patents + abandoned applications). Using the increased grant-count and a 60% allowance rate, I calculate about 7,600 such final disposals each week.