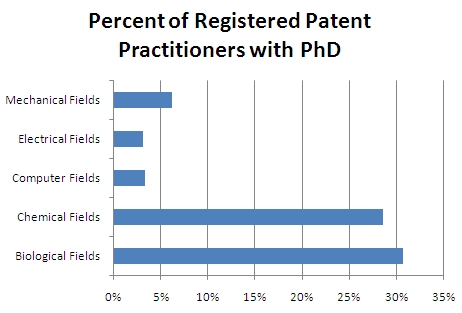 Tom Field and his co-authors have been kind enough to make their patent practitioner background database available to the public [Download 5mb database]. Their data is based on the registration applications that hopeful patent attorneys & agents submitted to the PTO. Using their data, I created a few interesting charts and tables on the educational background of registered patent law professionals.
As the top chart shows, there is a very wide educational gap between practitioners in the chemical and biological fields and those in the mechincal, electrical, and computer fields. (Here, I included MD, DVM, EdD, and other similar degrees within the PhD category). Overall, 99% of the registration registered practitioners hold a bachelors degree, 29% hold a masters degree, and 15% hold a PhD or equivalent. Although certainly not a dime-a-dozen, patent law professionals with a biological sciences PhD are more likely to have earned that degree at Harvard than at any other school.
The chart below shows the undergraduate degrees received broadly grouped according to area of technology.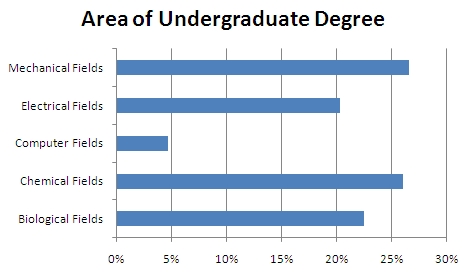 Notes:
The PTO anonymized the information before releasing it.