By Jason Rantanen
Last week I posted data about the CAFC's use of Rule 36 summary orders for the past several years, and suggested that there appears to be a notable uptick in the court's use of Rule 36 for patent infringement appeals this year.  Several folks commented that because there are frequently fewer judges sitting during the summer months, it may be possible that most Rule 36 dispositions occur during the early months of the financial year.  As a result, the linear projection I used for 2011 overpredicted the number of Rule 36 dispositions for the year.
To examine this suggestion, I conducted the same search as before, but limited the time range to the identical period as for 2011: October 1 – February 14.  Fully expecting that the suggestion was correct, I was surprised by the results.  Over the 12 years that I had examined the number of hits were almost exactly what would be expected from a linear prediction: 516 predicted vs. 513 actual.  Looking at the last five years produced essentially the same result: 247 predicted vs. 236 actual, a ratio of 1.05 predicted : actual.  Applying this value, along with a more appropriate multiplier than I originally used (12/5 as opposed to 24/9, since virtually all Rule 36 orders will come in the first half of the month), still produces a prediction of 89 Rule 36 dispositions this year – far exceeding the previous highest total of 64 (2007).
Below is a chart showing the number of Rule 36 dispositions during only the first four and a half months of the financial year.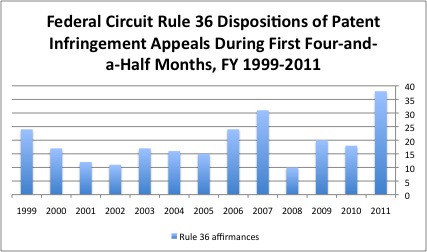 A word of caution: Any estimates of total Rule 36 dispositions for the year are still highly speculative, and I would avoid reading too much into this data.  Nor do I think it wise to try to ferret out reasons for the apparent spike in Rule 36 dispositions at this point – it's just far too early.  Still, the data does suggest that it might be a good idea to keep an eye on the court's use of Rule 36 dispositions, and it would be an interesting subject to examine if a long term trend does become apparent.