A patent's twenty year term is cut short when a patent holder fails to pay regular maintenance fees. In the US, maintenance fees are due 3.5, 7.5, and 11.5 years after issuance. The USPTO provides an additional 6-month grace period before the patent is considered abandoned. The current fee schedule requires a payment of $980 for the first maintenance fee; $2480 for the second fee; and $4,110 for the third fee. Qualified "small entities" receive a 50% reduction in fees. Small entities typically include universities, non-profit organization, and businesses with fewer than 500 employees.
Although the USPTO does not provide any ongoing services to patent holders, the maintenance fee revenue is used to fund ongoing patent office expenses (such as the examination of new patents). In fact, more than one-third of the USPTO's two-billion-dollar annual revenue comes from maintenance fee payments. For manufacturers and non-patent-holders, the maintenance fees are useful because they encourage patent holders to drop their patent rights.
Using USPTO records of maintenance fee payments, I looked at how fee payments have varied over time. The graphs below show the percentage of patents abandoned four years after issuance. These are patents that issued and then the patentee failed to pay the first maintenance fee due. In order to better visualize the trends, I used a 12-month moving average in the charts — thus, the data point for January 2011 represents abandonments for February 2010 through January 2010. The second chart divides the results between small and large entities.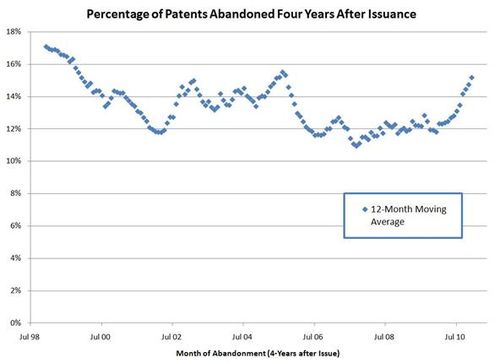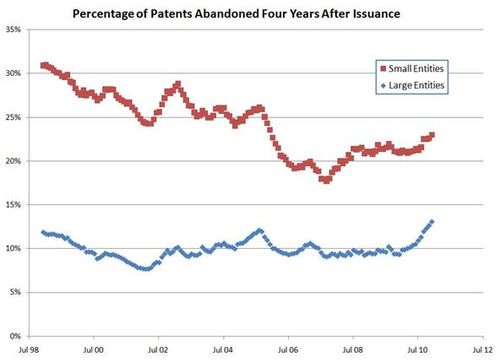 Two initial thoughts on these results:
Over the past two years, the abandonment rate has been rising. This rise is more notable for patents held by large entities. For large entities, the abandonment rate is the highest in the past decade.
Even though they have much lower maintenance fee charges, small entities are much more likely to abandon their patent applications.