Survey and Disclaimer: I thought that I had solved this, but the survey software that I used for last week's survey failed by allowing individuals to post multiple times and without recording their IP addresses. However, based on the diversity of responses, there are reason to believe that the survey results were not overwhelmed by multiple-voting. In addition, the divide between those for and against a first-to-file system mimics prior survey results. The survey was open for about 20 hours and received 500 during that time.
Results: The first chart below shows the almost even-split between those who support a first-to-file regime as compared with those who do not. Interestingly, most respondents had a strong opinion – with 70% expressing either strongly negative (voting "1") or strongly positive (voting "5"). Self identified patent prosecutors tended to show less support to first-to-file than self-identified patent examiners and patent litigators. Regardless of the level of support for the first-to-file regime, the vast majority of responses indicated support for retaining a filing grace period for an inventor's own pre-filing activities.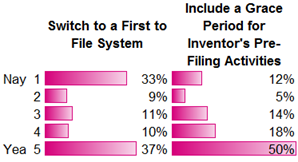 Most responses also indicated support for allowing third parties to submit prior art and commentary during prosecution and to limit false marking litigation. There was little support for special rules that would govern the litigation business method patents (such as limiting venue and providing for interlocutory appeals).
Perhaps most interesting, very few of the responses supported the use of "secret" prior art in analyzing the question of obviousness. As I have previously discussed, most countries around the world only use publicly available prior art to judge the question of obviousness or inventive step. Rather, around the world, prior art that was not publicly available at the time of filing is used only for novelty and priority issues. In the US, secret prior art is regularly used for obviousness analysis. The primary source of the secret prior art is currently defined under Section 102(e) of the Patent Act and covers patent applications that were pending, but not yet publicly available. Any true effort at international harmonization would deal with this issue as well. Several responses explicitly indicated that, if adopted, the US first-to-file regime to attempt to be uniform with Europe. "The hybrid approach will only complicate and cost more in lawyer fees"; "The SECRET PRIOR ART would be a total disaster !!! and make the US one of the least patent friendly jurisdictions on the planet."

Few responses offered support for giving the USPTO substantive rulemaking authority. However, there was strong support for greater fee setting authority. Examiners were most in-favor of heightened USPTO authority while patent prosecutors were the most wary.
Finally, as many know, the current reexamination system has been criticized because it only allows reexaminations based on patents and published documents. Responses showed a lukewarm support for broad post-grant review system that could reach "any patentability question."