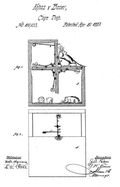 By Jason Rantanen
As every student of patent law knows, inventors were required to submit a working miniature model of their invention along with their patent application until the late nineteenth-century.  Famous models include those of such iconic inventions as the Whitney cotton gin, the Singer sewing machine, and the Morse telegraph register.  A substantial number of those models still exist, although virtually all are in private collections. 
The Smithsonian Institute recently opened a a two-year exhibition of patent models from the collection of Alan Rothchild, offering everyone an opportunity to view examples of these models.  Entitled "Inventing a Better Mousetrap: Patent Models from the Rothschild Collection," the curated exhibit runs until November 3, 2013.  If you are in Washington D.C., it may be worth your while to wander over to the American Art Museum to check it out. 
Bonus: the Rothchild Peterson Patent Model Museum website has a page explaining what the models are and linking to the patents themselves.