By Dennis Crouch
Krippelz v. Ford (Fed. Cir. 2012)
This case involves an interesting 20+ year history between Mr. Krippelz and Ford Motor Company, including 14 years of litigation over a mirror lamp. Ford has won what appears to be the final round.
* * * * *
Back in 1991, Mr. Krippelz sent Ford Motor Company a copy of his patent covering a downward-facing side-mirror light and a license inquiry. Ford was not interested in a license, but in 1997 began selling cars with downward-facing side-mirror lights. Krippelz sued in 1998. A paper battle continued over the next decade and even after Mr. Krippelz death in 2010. During that time, the USPTO confirmed the patentability of the asserted claims in a reexamination, the judge awarded summary judgment of infringement, the jury the patent valid and awarded $23 million in damages; and the judge boosted that figure to $56 million based upon pre-judgment interest and enhanced damages for willful infringement.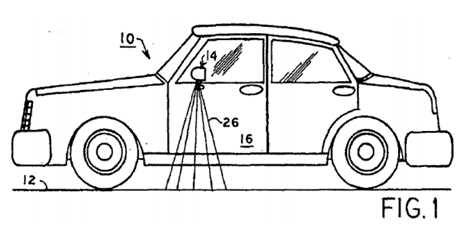 On appeal, the Federal Circuit has reversed – finding the patent invalid as anticipated by a 1951 French Patent invented by Charles DuBois of the former French West African colonial territories.
A court may find issued patent claim invalid as anticipated only when presented with clear and convincing evidence that a single prior art reference discloses each and every element of a claimed invention.
The focus here was on the Krippelz patent's claimed "conical beam of light" and whether that beam was disclosed by DuBois. In construing the claim, the district court held that the conical limitation required that "the filament of the light bulb is at or near the focal point of an optical reflector." DuBois included a statement that his system may also include "a bulb at the focus of the reflector." In reviewing the difference, the appellate panel found that any reasonable jury would find the asserted claim invalid based upon DuBois and that the district court had abused its discretion in denying the motion for Judgment as a Matter of Law.
Most appellants in Ford's position would have appealed claim construction because of the lower standard of review. Here, Ford may have lost that right by not previously objecting to the claim construction. That said, the motor company was able to roll a hard eight to overcome the strong presumption of validity and the deference given to the jury determination.