By Dennis Crouch
The newly revised 35 U.S.C. § 102 states that no patent shall issue if "the claimed invention was patented, described in a printed publication, or in public use, on sale, or otherwise available to the public before the effective filing date of the claimed invention…" 35 U.S.C. §102(a).
My question for the hour is whether (or not) the word "patented" in this fundamental provision is entirely superfluous. In other words, when is a claimed invention "patented" but not described in a printed publication? I should note at this point that the pre AIA Section 102 also includes the statement that an invention is not patentable if it was already "patented or described in a printed publication."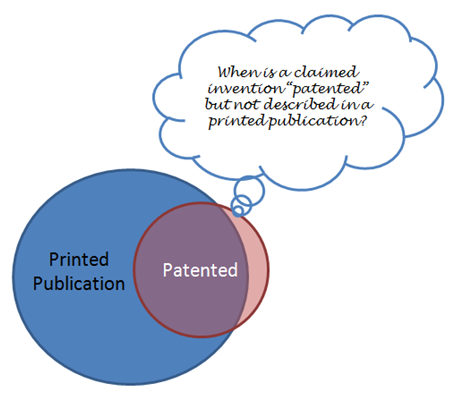 Patented but not Published: It is largely safe to assume that patents are published and, therefore, any disclosure found in a patent should also be considered to be "described in a printed publication." A narrow exception to this aforementioned assumption can be derived from regular SNAFUs that occur in patent offices around the world that allow for patents to issue without actually being published. Historically, some countries also granted patentee's a period of post-grant secrecy. US courts have ruled that these foreign patents still count as patented under the statute so long as the secrecy is only temporary and the patent is eventually and meaningfully "laid open for public inspection." See In re Kathawala, 9 F.3d 942, 28 USPQ2d 1789 (Fed. Cir. 1993) and In re Carlson, 983 F.2d 1032 (Fed. Cir. 1992). The statute covers patents issued in any country and because the US has no direct control over how any particular country publishes its patents, the "patented" clause has the potential of potentially becoming meaningful if countries decide to again limit publication.
Patented but not Described?: There is also some potential that, even when a patent is published, a particular element in the prior art will covered by the patent claims but not sufficiently described to qualify under the "printed publication" leg of the clause. The enablement and written description requirements of 35 U.S.C. § 112 (as well as their worldwide equivalents) largely eliminate this possibility. However, the truth is that patents regularly issue that are directed to particular inventions but that are not fully enabled by the specification. In those cases it is quite possible that an invention be "patented" without being "described in a printed publication." (Of course, this may be unlikely because US courts have placed such a low enablement requirement on prior art).
Thoughts?