By Dennis Crouch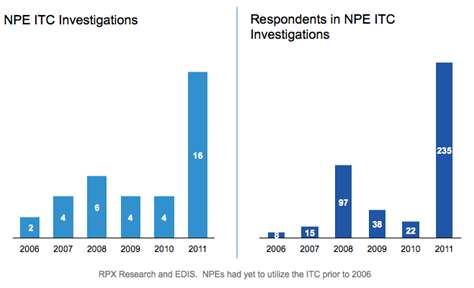 RPX today published a study of the increase in non-practicing entity (NPE) activity at the United States International Trade Commission (ITC). The charts above (that come from the RPX article) show annual numbers for ITC investigations on behalf of NPE patent holders and the cumulative number of respondents (i.e., number of defendants). Both figures show a major increase in NPE activity at the ITC. In its study, RPX points-out that "[f]ully 25% of ITC Investigations in 2011 were filed by an NPE and 51% of respondents hauled into the ITC were in response to an NPE complaint."
The ITC is an agency of the US Government not an Article III court. However, its administrative law judges conduct hearings that look an awful-lot like bench trials. I don't have the data here, but the number of "investigations" is typically a subset of the total number of complaints filed. It takes votes from three of the six ITC Commissioners to begin an official investigation.
Why the new demand?: (1) In 2010, the ITC generously interpreted the "domestic industry" requirement and ruled that NPEs will ordinarily have standing to pursue a complaint. (2) Although the ITC does not award money damages, the ITC does typically issue injunctive relief since the agency is not bound by eBay v. MercExchange; (3) The ITC is not bound by the new joinder rules that limit the number of accused infringers per action; and (4) The ITC tends to move much more quickly than ordinary patent litigation.
Injunction for an NPE?: In the vast majority of NPE cases, the patent holder is actually seeking money and would receive no direct benefit from the accused infringer ceasing operations. However, despite being of no direct value to an NPE, injunctive relief is a major bargaining chip because of its value to the accused infringer. The ITC's injunctions are only directed at imports, but most high-tech consumer products are imported and therefore qualify.
Money Damages: Money damages are not available at the ITC for either past or ongoing infringement. However, pursuing an action at the ITC does not foreclose an NPE patent holder from also filing a complaint in a federal district court seeking monetary damages. In this sense, ITC litigation should likely be seen as an additional potential battle-front that may be fought in conjunction with district court litigation; reexamination (and future review) processes at the USPTO; and non-US patent litigation as well.
RPX: I should note here the source of this data is RPX – a company that has built its business on making NPEs appear to be the "bad guys." RPX is currently defending its market-shaping activities in an antitrust lawsuit filed earlier this month. Although I believe the data presented here is correct, an anti-NPE bent is apparent from the text of the study.
Notes