By Dennis Crouch
Two weeks ago I posted a list of issues to consider prior to the September 16, 2012 post grant changeover.  Two big changes were that (1) the relatively inexpensive inter partes reexamination is no longer available; and (2) the fee for filing an ex parte reexamination has risen 7-fold from $2,500 to $17,750.  In the days leading up to the changeover, several hundred reexaminations were filed –almost an entire year's worth of reexamination requests.  See the chart below for inter partes reexaminations and note that the September filings are only for the first half of September (no filings accepted after September 15).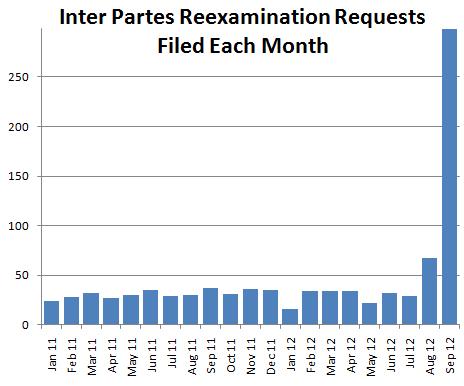 The Central Reexamination Unit (CRU) may be working quite hard for the next three months to meet the 90–day deadline for determining whether or not to grant the petitions.
This suggests that many potential patent challengers are not happy with the new system.